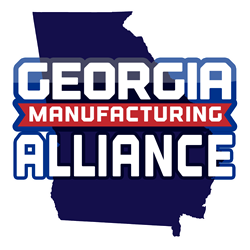 2016 has been amazing for GMA and our members. I can't wait to see the growth in 2017
Atlanta, Georgia (PRWEB) December 21, 2016
The Georgia Manufacturing Alliance (GMA) experienced unprecedented growth in 2016 surpassing even the expectations of CEO and founder, Jason Moss. "The inspiration behind GMA began in 2008 with a core group of 16 people that saw a connection gap in the manufacturing community. GMA was founded as a way to bridge this gap through membership, educational workshops, plant tours, a resource directory, and The Georgia Manufacturing Summit."
"The only way to analyze an organization's success is by looking the numbers," continued Mr. Moss. "In our recent recap with our Producer Sponsor, Smith & Howard CPA, we realized what an incredible year it had been for us and for the manufacturing industry."
Some of the Georgia Manufacturing Alliance's 2016 highlights included:

85 plant tours, educational workshops, and networking events throughout the state
Over 500 attendees at the 2016 Georgia Manufacturing Summit
Launch of the Georgia Manufacturing Hall of Fame
Amazon Best Selling Georgia Manufacturing Directory
1st Edition and the #1 Resource for the Manufacturing Community -- 2,500 in print

70% increase in membership
Georgia Manufacturing Calendar (11,516 views)
Including a list of all GMA events and 9 Joint Association Partner events

Georgia Manufacturing Alliance Website (48,406 views)
5 Regional GMA Chapters throughout the state (2 more planned for 2017)
National and International Press Coverage in over 3,000 media sources
"As we reflect on 2016, we are very thankful for everyone who partnered with us to bring about this success. Now that the election is behind us, we are excited to see how the new administration will impact manufacturing in the U.S. and especially in Georgia," stated Mr. Moss. "Our main objective is to provide our manufacturers, suppliers, and service industries the resources they need for every area of their business."
About Georgia Manufacturing Alliance:
The Georgia Manufacturing Alliance (GMA) experienced unprecedented growth in 2016 surpassing even the expectations of CEO and founder, Jason Moss. "The inspiration behind GMA began in 2008 with a core group of 16 people that saw a connection gap in the manufacturing community. GMA was founded as a way to bridge this gap through membership, educational workshops, plant tours, a resource directory, and The Georgia Manufacturing Summit."
The Georgia Manufacturing Alliance provides monthly plant tours, educational sessions and networking opportunities designed to help make profitable business connections for their members and sponsors. GMA is the fastest growing community of manufacturing professionals in the state. To learn more about The Georgia Manufacturing Alliance, please visit their website at http://www.georgiamanufacturingalliance.com or call 770-338-0051 for more information.