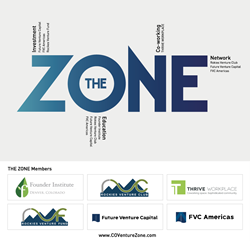 The Venture Zone addresses the needs of startups from concept development through angel investment rounds and finally venture capital and exit. It creates a community that supports this life-cycle, elevates everyone, and provides a mentor-rich environment
Denver, CO (PRWEB) December 21, 2016
In an unprecedented move aimed at supporting and accelerating entrepreneurial growth state-wide, seven established organizations in the venture community have created "The Venture Zone," a workspace that provides start-ups with access to valuable and varied resources - from early-stage ideation to exit path and every point in between. Located at 1415 Park Avenue West in Denver, Thrive Workplace is the first to house the membership-based program. Plans for additional locations are already underway for 2017 and beyond.
The concept of The Venture Zone is to provide entrepreneurs and intrapreneurs with a community that supports them through rapid growth and uncertainty about how to launch their ideas. By working closely in a co-working environment with others who are struggling with the same problems, The Venture Zone members can learn from others as well as from mentors, educators, and experts affiliated with The Venture Zone.
To become a member of The Venture Zone, individuals can contact Dave Harris (dave(at)rockiesventureclub(dot)org) for an application for the program. Monthly memberships range from $250 to $425 per month that include Thrive Workspace desk, meeting rooms and office resources as well as a Rockies Venture Club Keystone Member, valued at $995 annually entitling them to gain access to RVC conferences, MasterMind Sessions, and workshops. They also receive personal access to a wealth of resources contained in the seven partner companies – all of which bring unmatched breadth and depth in terms of experience, talent and service offerings.
"The goal of The Venture Zone is to create a venture community that supports individuals and entities at any and every stage of innovation and ideation. We provide entrepreneurs access to critical resources that are true "soup to nuts." Whether the individual is just getting started with an initial idea and wants to take a course offered by the Founders Institute Denver, or a team seeks series A funding and exit strategies, The Venture Zone can help," said Denichiro "Denny" Otsuga, President of FVC Americas. "FVC Americas will be available to work with The Venture Zone members, bringing significant resources and expertise from our parent company in Japan, Future Venture Capital Co., Ltd. For example, if companies seek counsel on exit strategies and options, we can provide connections and advise accordingly."
Many communities aspiring to create venture economy ecosystems often suffer from fragmented resources and inadequate access to information. As a result, entrepreneurs must wade through myriad of groups offering assistance. The options are independently strong, but the ecosystem falls short as a whole. The Venture Zone partners bring value to entrepreneurs by providing a wide array of resources and expertise – all in one place.
Entrepreneurs often need to seek access to information and resources; collaborative workspace, investor events and related educational courses, pitch coaching, and experienced advisors/mentors, to name a few. Although numerous organizations state-wide provide such services, it can be challenging and time-consuming for entrepreneurs to evaluate available resources and quality varies from place to place. The Venture Zone streamlines the intensive information gathering process for entrepreneurs and intrapreneurs, laying the groundwork required to build an increasingly supportive, vibrant, and efficient venture community.
"Our shared goal to build a sustainable startup ecosystem is greatly enhanced by The Venture Zone and speaks to Denver's thriving startup community," said Rob Rusher, Director of the Founders Institute Denver. "This partnership and collaborative work space give startups an exponentially better chance of success."
"The Venture Zone is a unique concept not found in other startup communities," said Peter Adams, Executive Director of Rockies Venture Club and Managing Director of Rockies Venture Fund. "The Venture Zone addresses the needs of startups from concept development through angel investment rounds and finally venture capital and exit. It creates a community that supports this life-cycle, elevates everyone, and provides a mentor-rich environment. RVC has been supporting entrepreneurs for over 30 years, and this partnership advances our mission to a new level."
"Thrive is excited to partner and host the initial location for The Venture Zone," remarked Charlie Johnson, CEO of Thrive Workspace. "We are proud to be part of a unique effort to help start-ups from any point in their business. We hope it will become a model that communities can replicate in other cities nationwide."
About Founders Institute Denver:
The Founder Institute's vision is to "Globalize Silicon Valley" and help entrepreneurs across the globe launch meaningful and enduring technology companies. The Founder Institute curriculum was rigorously built using Silicon Valley best practices, and each training course is led by members of the Founder Institute's worldwide network of over 7,500 entrepreneur mentors who are founders themselves. Read more at http://www.fi.co
About FVC Americas (FVCA):
EnConnect Holdings, LLC is headquartered in Fort Collins, Colorado and doing business as, FVC Americas. FVCA works with FVC to incubate a value creating ecosystem for the small and early-stage venture companies in small and medium size communities. Additional FVCA offices will emerge as FVC grow its regional presence in other countries. FVCA is a wholly owned subsidiary of FVC. Read more at http://www.enconnect.org
About Rockies Venture Club (RVC):
RVC is the longest running angel investing group in the United States and is the sixth largest angel group in the country. Its mission is to advance economic development in the Rocky Mountain Region by actively connecting investors with the most promising entrepreneurial companies. RVC does this through a commitment to education, events, and execution and its HyperAccelerator program. RVC offers education for both angel investors and entrepreneurs, hosts angel groups throughout the region as well as major conferences such as the Angel Capital Summit and Colorado Capital Conference. Read more at http://www.rockiesventureclub.org
About Rockies Venture Fund (RVF):
The Rockies Venture Fund is an Angel Stage co-investment Fund with a focus on seed investments in Colorado growth companies. A co-investment, or "sidecar" fund, the Rockies Venture Fund will be investing alongside angel investors who participate in evaluating deals and bringing expertise from many sectors, ranging from software development and marketing to health care. Learn more at http://rockiesventurefund.com/
About Thrive Workplace:
Thrive Workplace, based in Denver, is a family-owned co-working community offering unique, flexible and member-centric work spaces thoughtfully designed to cultivate innovation and success. Thrive provides customizable workplace options including private offices, open work spaces conference rooms, corporate event space and training rooms available to wide variety of members, ranging from Fortune 500 companies to startups, at two locations in downtown Denver and Cherry Creek. Thrive shapes communities for passionate, innovative people to network and succeed through a relationship-driven co-working experience. Learn more at http://www.thriveworkplace.com.
About Future Venture Capital Co., Ltd . (FVC):
FVC is a publicly traded venture capital investment company headquartered in Kyoto, Japan, founded in 1998. FVC has invested in over 350 deals since its inception and currently manages 25 funds totaling over $250M USD in assets. FVC often invests in early stage deals and as the lead investor. Learn more at http://www.fvc.co.jp