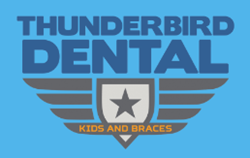 Las Vegas, NV (PRWEB) December 20, 2016
Dr. Dawn McClellan, trusted pediatric dentist in Las Vegas, NV, is now accepting new patients for first dental visits at her practice, Thunderbird Dental. Early dental care is imperative for ensuring that children form healthy oral habits early on and avoid future issues such as cavities, malocclusion or avoidable orthodontic treatment.
Dr. McClellan, an experienced pediatric dentist in Las Vegas, NV, and the American Academy of Pediatric Dentistry, advise parents to schedule pediatric dental visits for their children by the time they turn one year old. Early dental visits help to establish healthy oral habits and can help minimize the development of cavities in young children. Some parents make the mistake of assuming that early dental care is not important, since baby teeth eventually fall out and make way for permanent teeth. However, children who have unhealthy baby teeth are more likely to have unhealthy permanent teeth as they grow into adulthood as well. Additionally, improper oral health habits, such as thumb-sucking, could lead to painful and costly orthodontic treatment, among other treatments.
In addition to examining the oral health of each pediatric patient who visits her office, Dr. McClellan also offers proper brushing and flossing techniques intended to help parents encourage proper dental hygiene routines in their children. Dr. McClellan also discusses how a healthy diet can help strengthen the teeth, while unhealthy foods and drinks can contribute to tooth decay. If fluoride treatments or any other special treatments are needed, Dr. McClellan explains their benefits in detail prior to offering them during the first dental appointment.
Parents who want to help their children avoid cavities and develop good oral hygiene habits at a young age are invited to schedule a first dental appointment with Dr. McClellan, a compassionate pediatric dentist in Las Vegas, NV. Pediatric appointments can be arranged by calling Thunderbird Dental at 702-545-0055.
About the Practice
Thunderbird Dental is a pediatric dental office providing personalized dental care to patients in Las Vegas, NV. Dr. Dawn McClellan, and the entire team at Thunderbird Dental, pride themselves in offering a variety of services to patients with the latest technology at their new state-of-the-art facility. Dr. McClellan is a world-renowned pediatric dentist whose experienced care has reached around the world through her service as a commissioned officer in the United States Public Health Services, to becoming a co-founder of Dental Care International (DCI), a non-profit organization spreading dental health education. To learn more about Thunderbird Dental or the many services they offer, please visit http://www.thunderbirddental.com or call (702) 545-0055 to schedule an appointment.