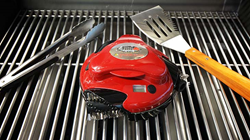 (PRWEB) January 05, 2017
Award-winning Grillbot, the world's first automatic grill-cleaning robot, will debut a new product at the Consumer Electronics Show (CES) in Las Vegas, Nevada, this week. The new Grillbot Pro will feature Bluetooth 4.0 connectivity enabling the control of certain functions from a smartphone, and a replaceable cleaning cartridge that makes the new Grillbot Pro even more effective at getting rid of grease and grime on the grill.
CES is the world's gathering place for all who thrive on the business of consumer technologies. It has served as the proving ground for innovators and breakthrough technologies for more than 40 years—the global stage where next-generation innovations are introduced to the marketplace.
Grillbot was created to enrich lives by simplifying them and by taking the grunt work out of cleaning grills through the brains and brawn of robotics. It is an innovative, fully-automated device that makes grill cleaning super easy with a push of a button. Designed for use on any style grill, consumers simply place the Grillbot on their grill and the Grillbot does all the cleaning — saving grillers time from the grime. The device is driven by a powerful CPU that controls movement, speed, and direction of the brushes. The Grillbot comes with an LCD alarm and timer that can be set for a light scrub, deep clean or something in between.
This brand new Grillbot Pro design represent the next generation of this technologically advanced product and are designed to give BBQ chefs more freedom.
The easy-to-use Grillbot Pro will deliver the hands-free cleaning experience that the original Grillbot provides, as well as the following new features:

Bluetooth 4.0 technology and smartphone app — Allows control of certain functions from a smartphone while away from the grill
Automated on/off function – Use one's smartphone to control the on/off function on the built-in cleaning spray cycle
Illuminated alarm and timer — Stay aware of how much cleaning time remains and receive an alert on one's phone when the cleaning cycle is finished
Heat alarm — Sounds off a lifesaver alert if one forgets to turn off the flames
Brush Replacement Reminder —The brushes are easy to remove and dishwasher safe, and one's phone will remind them when it's time to replace the brushes
Replaceable cleaning cartridge- easily and effectively loosens up even the toughest grease and grime on the grill, enabling a better clean
Grillbot will be demonstrating its new and improved Grillbot Pro along with its original Grillbot and accessories at the Grillbot Booth #42469 SANDS at CES. The Grillbot Pro is expected to be available by Summer 2017.
Grillbot has won multiple global accolades. It ranked #13 in the Wellbots Top 25 Smart Products list in the U.S. and in 2015, Grillbot was one of Oprah's "O" list top picks. Grillbot also won the 2012 "Innovation Award" from the International Home and Housewares Show, the National Hardware Show's Gold Award for Design, and SkyMall's Top Pick Award.
Grillbot has already sold over 100,000 units globally, including new markets such as Russia, Australia, Canada and Brazil.
About Grillbot
As with most inventions, Grillbot began with an idea. One day, founder Ethan Woods was getting ready to use his grill and did not have a brush available to clean it. While trying to clean a stubborn grill with a wire brush, he wondered if a robot could be created to do the job. He took a power drill, attached a brush and cleaned the grill. He put together a design team and that makeshift drill became the sophisticated computer-driven Grillbot! Since then, Grillbot has sold over 100,000 units and has received many awards and accolades for its innovative design.