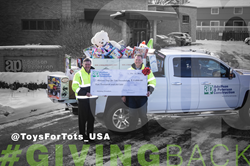 Minneapolis, Minnesota (PRWEB) December 21, 2016
Temperatures may be below freezing, but that has not stopped Adolfson & Peterson Construction (AP) employees from heating things up with their holiday Toys for Tots drive. Exceeding expectations, AP collected and donated a total of 212 toys and $5,000! On Thursday, December 15, AP employees bundled up to bare the 2° weather to drop-off the truckload of toys and present the large check on KARE 11's 6:00 PM newscast.
AP continually seeks ways to give back and pay-it-forward through community service. Across the country, employees exemplify AP's vision to build a better tomorrow and enhance communities for future generations. Employees at each regional office make a lasting impact by supporting local charitable and community organizations they are passionate about. Every year, hundreds of AP employees generously donate their talents, their energy and thousands of hours of their time to charitable organizations around the country.
As an office, AP finds a way to give back several times throughout the year, especially around the holidays. In November, the office conducted a "Clean Out your Cupboards" food drive – collecting over 350 pounds of food, which was donated to St. Louis Park Emergency Program (STEP). Last year's big holiday focus was with Cornerstone, a local violence prevention and emergency service organization. AP donated over 175 items for their Holiday Shop – their annual holiday program for hundreds of kids and families who are struggling from abusive homes to receive and pick out a few holiday gifts to lighten the burden they face. Furthermore, in February AP plans partner with American Red Cross to host a Blood Drive.
This holiday season, AP selected to give back to the community by collecting toys for the U.S. Marine Corps Reserve Toys for Tots Program – a program that collects and distributes new toys to help less fortunate children, throughout local communities, experience the joy of Christmas. As an officially recognized Toys for Tots drop-off location, AP's office and each job site collected new, unwrapped toys and money from Monday, November 21 – Wednesday, December 14. Additionally, they reached out to over 11 nearby businesses to encourage their participation as well. Boxes full of toys started to take over the front office on Wednesday, December 14 as toys were collected from each job site and piled onto the tables already full of toys. It filled up even more with another box full of toys donated by local business, Catapult-Me. Once all toys were received, 15 brave AP employees stood out in the freezing cold temperatures to haul the truckload of toys over to KARE 11's Toys for Tots drop-off tent and present the $5,000 large check.
It may be cold outside, but AP and their employees' generous donation will be sure to warm and brighten the spirits of many less fortunate children and families this holiday season!
About AP
Adolfson & Peterson Construction (AP) is a U.S.-based, privately held builder that is consistently ranked among the top 50 construction managers and general contractors in the nation. Headquartered in Minneapolis, Minnesota, the company delivers innovative and collaborative building solutions for clients across the country from its regional offices in Charlotte, Dallas, Denver, Minneapolis and Phoenix. Founded in 1946, AP serves clients in the education, healthcare, commercial, municipal, multifamily, hospitality and senior living market sectors. For more information, visit http://www.a-p.com or follow us on Facebook, LinkedIn and Twitter.
###