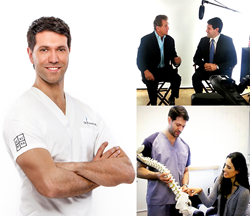 Survived severe bullying, recovered from semi-paralysis from a pool accident and super healed from two major heart surgeries; in record time using the Kousouli Method.
Los Angeles, California (PRWEB) December 22, 2016
The holidays are supposed to be relaxing. However, there are many financial, family and work obligations that heighten emotions for all this time of year. Even our super-strict diets get challenged with over-ingestion of sugar, prompting yet another guilt filled New Year resolution to seek health. "The holidays become stressful when people set unrealistic exceptions or pretend to be who they aren't, just to impress others. The holidays should bring us all together to celebrate community, not materialism." says Hollywood's mind body expert Dr. Theo Kousouli.
A holistic health care expert, teacher, speaker, mentor and author featured on major networks, Theodoros Kousouli D.C., CHt., is Los Angeles' premier holistic metaphysical energy healer. He is recognized and trusted for effective, quick, drug-free results, and his remarkable natural, pain-free, holistic healing system, the Kousouli® Method (Utilizing a new Chiropractic and Hypnotherapy approach), focuses on getting patients to their top performance levels by unblocking pathways using the body's own repair mechanisms.
His desire to help others stems from his personal journey surviving severe emotional abuse, bullying, recovering from semi-paralysis and major heart surgery - twice, and includes everything he's learned about the optimum wellness techniques that define his practice.
Dr. Theo Kousouli is the author of a seven book series (http://www.BeAMaster.com), including Be A Master™ of Sex Energy, Be A Master™ of Maximum Healing, and Be A Master™ of Psychic Energy. A personal coach and advisor to entertainers, business leaders, energy healers, and spiritual seekers of all varieties, Dr. Kousouli holds seminars teaching people how to tap into their inner healing and higher level abilities through the use of their nervous systems. Visit http://www.KousouliMethod.com for more information on developing intuition and personal power to live a more purpose-filled, meaningful, and healthy life.
Dr. Kousouli is the ideal event speaker; for speaking engagements, guest show/news appearances, expert opinion for editorials, contact 310-777-3463.
Instagram:
https://www.instagram.com/drkousouli/
Facebook:
https://www.facebook.com/drtheokousouli/
Twitter:
https://www.twitter.com/drkousouli/