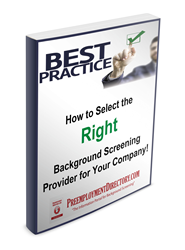 The 'Best Practice Guide for Selecting a Background Screening Provider' is essential reading for anyone involved in the process of selecting a background screening firm"
Alpharetta, GA (PRWEB) December 21, 2016
PreemploymentDirectory.com, the background screening information portal for Human Resources professionals, announced the release of the seventh edition of their 'Best Practice Guide for Selecting a Background Screening Provider' guide. The guide uses many of the accreditation standards developed by the Background Screening Certification Council of the National Association for Professional Background Screeners (NAPBS), which is the trade association for the global background screening profession.
To earn accreditation, firms must implement the standards as defined by the Background Screening Credentialing Council (BSCC), which certifies that background screening firms follow the Background Screening Agency Accreditation Program (BSAAP) Standard. This process ensures companies comply with relevant laws, ethical business practice and demonstrates a commitment to excellence. It's not sufficient to merely reflect the standards in official policies. It must also be demonstrable in daily business operations and this is verified by an onsite review of the firm by an independent auditor.
W. Barry Nixon, COO, PreemploymentDirectory.com, the co-author of 'Background Investigations: Managing Hiring Risk from a HR and Security Perspective,' one the earliest books on background screening, and publisher of the award winning publications, The Global Background Screener and The Background Buzz, said, the 'Best Practice Guide for Selecting a Background Screening Provider' is essential reading for anyone involved in the process of selecting a background screening firm and provides a roadmap for the criteria that should be built into a RFP. While every organization is different, there are some key core elements that should be considered when selecting a background screening provider and our Guide provides valuable insight on these." Nixon added, "Organizations should treat the selection of a background screening firm with the same vigor and level of care given to selecting a CPA firm. The right background screening firm can help you select the best people and avoid hiring people who will cause havoc in your workplace, and the wrong background screening firm may not only get you into hot water, but create tremendous financial liability for you as well. During these time when FCRA lawsuits are continuing to rise having the right background screening partner is more important than ever."
The Guide is included in the 2016-17 Background Screening Industry Resource Guide and you can also download a copy at PreemploymentDirectory.com in the Background Screening Publications section.
Please direct any questions about the Guide to W. Barry Nixon at 1-949-770-5264 or you can email him at wbnixon(at)PreemploymentDirectory(dot)com. Questions about the NAPBS Accreditation program should be directed to NAPBS at 1-919-459-2082 or info (at) napbs.com
ABOUT PREEPLOYMENTDIRECTORY.COM:
PreemploymentDirectory.com is the leading background screening information portal on the web and houses the leading directory of background screening companies designed to make it easy for organizations to quickly find a background screening provider to meet their needs. The Directory includes an information rich Background Screening Knowledge Center, U.S. and International Resource Centers that provide important information about conducting background checks in countries around the world and a comprehensive Article Library.