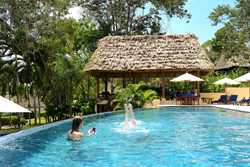 Canadians have been enjoying our 'Wildly Civilised' eco-resort for decades
San Ignacio, Belize (PRWEB) December 27, 2016
Just in time to help with planning next year's vacations, Canada's CTV News recently announced its top "Travel trend for 2017" – the tiny but chock-full-of-attractions country of Belize.
And new Canada-to-Belize City direct flights have made it easier than ever to take, as CTV put it, "A walk on the wild side," The Lodge at Chaa Creek reports.
"We were very happy to see CTV recommend Belize as having 'plenty to offer travellers looking for a walk on the wild side'," Chaa Creek's marketing administrator Roberto Harrison said. "Especially as Canadians have been enjoying our 'Wildly Civilised' eco-resort for decades.
"And with travel from Canada to our doorstep getting easier all the time, we're looking forward to seeing more of our northern neighbours this winter."
Mr Harrison said WestJet Air's new twice weekly nonstop service from Toronto's Pearson International Airport to Philip Goldson International in Belize City, combined with Tropic Air's service from the newly upgraded Sir Barry Bowen Municpal airport to the Maya Flats airstrip adjacent to Chaa Creek, means that northern visitors can "Have breakfast with snow falling outside and then be outdoors splashing around the pool before enjoying dinner that same day. "
WestJet became the first Canadian carrier to fly directly to Belize in October 2016, with twice weekly flights that depart Toronto at 9:15 a.m. and arrive in Belize City at 11:59 a.m. local times.
On December 18, 2016 CTV News reported "Latin America is set to be a key travel trend for 2017," and described a few of Belize's many unique attractions.
The CTV News report, "Travel trends for 2017: off the beaten track in Belize" goes on to list the ancient Maya ceremonial site of Xunantunich, the Belize Zoo, the Great Blue Hole and exploring the underground caves revered by Belize's ancient Maya as some of the country's top attractions.
Mr Harrison said he enjoyed reading the recommendations, especially as they are all part of Chaa Creek's extensive menu of tours and activities.
"We couldn't agree more with CTV's recommendations, and they are all activities we encourage our own guests to try," Mr Harrison said.
"We generally offer guests a stop at the Belize Zoo either coming from or returning to Belize's International airport, especially as part of our all-inclusive Belize Vacation Packages. Like most things in Belize, the Zoo is a warm, friendly and unique experience that allows visitors to get up close and personal with some of our most iconic animals, such a jaguars, tapirs, monkeys and the magnificent Harpy Eagle. It's a great introduction to some of the wildlife inhabiting the 400-acre private nature reserve that surrounds Chaa Creek."
Mr Harrison said the other attractions highlighted by CTV are all easy to experience from Chaa Creek.
"Xunantunich, for example, is close by Chaa Creek, making it an easy morning or afternoon trip that is well worth the visit. A hand cranked ferry takes visitors across the Mopan River and then it's a pleasant walk or ride though unspoiled rainforest to one of the most picturesque Maya archaeological sites in Belize.
"The highlight is El Castillo, a beautifully preserved temple pyramid with ornate frescos and intact chambers near the top, which offers breathtaking views of the surrounding area, from Guatemala to Chaa Creek and beyond. I've never heard of anyone, regardless of age or experience, not being enthralled by Xunantunich."
Mr Harrison said another popular attraction is Belize's extensive cave system.
"We offer excursions to the Barton Creek, Rio Frio and other caves as well as the amazing Actun Tunichil Muknal, which was discovered not that long ago and, as an important ceremonial site for the ancient Maya, is still filled with a wealth of artefacts like jade axe heads, sacrificial altars, pottery and the skeletons and skulls of sacrificial victims, the most famous of which is the Crystal Maiden, the intact skeleton of a young woman who over the years has been covered in calcium carbonate, which gives her an eerie, shimmering shine under the beam of a flashlight.
"It's no exaggeration to say that it's an unforgettable experience."
Equally memorable, Mr Harrison said, is a trip to Belize's Great Barrier Reef.
"Of course, back in the early days Belize was mostly famous among divers as one of the world's top diving spots. With the second longest barrier reef in the world sheltering scores of tiny islands, the planet's largest atolls, and then the Blue Hole, which Jacques Cousteau made famous when he explored it aboard the Calypso, diving in Belize was, and is, at the top of many people's bucket lists.
"Our Rainforest to Reef all-inclusive Belize vacation packages with our partner resorts on Belize's Caribbean cayes and coast offer a seamless, affordable way to combine a rainforest vacation with a Caribbean beach holiday," he said.
"Whether you're from Canada, the US, UK, Europe or anywhere, there's no doubt that Belize has something to offer you, and that Chaa Creek can open Belize up in the most comfortable, affordable way possible.
"It's how we developed the reputation within the travel industry as Belize's 'Destination Within a Destination'," he said.
Mr Harrison said that Chaa Creek has added new offerings to their extensive menu of accommodation options, tours, amenities and activities for 2017, including a Belize Cultural Grand Tour and the new luxury Ix Chel Rainforest Villas, and encouraged travellers to visit the popular eco-resort's website or contact Chaa Creek directly to learn more.
"Thanks to increased air service and a competitive airline industry, Belize is becoming closer and more affordable all the time, so going from freezing up north to swimming, canoeing, horseback riding though jungle trails or just swinging in a hammock with a cold drink is becoming an option for more people this northern winter.
"The sight of Canadians with healthy tans frolicking around our pool during the winter is, to my mind, one of the benefits of living in a more connected global community," Mr Harrison said.
The Lodge at Chaa Creek is a multi award winning eco resort set within a 400-acre private nature reserve along the banks of the Macal River in Belize.
ENDS