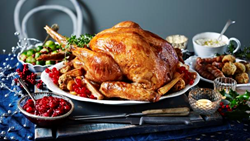 If we could bottle the smell of Christmas and package it an air freshener, we would!
Nottingham, Nottinghamshire (PRWEB UK) 22 December 2016
A recent survey conducted by air freshener manufacturer Retroscents, asked the nation what scents most reminded them of Christmas.
The scent of a roast turkey dinner, complete with all the trimmings came out as the top answer, with 15% of respondents citing it as the smell which most provoked Christmas memories. Closely followed was the fragrance of a real Christmas tree with 12% of the vote and in third position a tie with the scent of mulled wine and the crisp smell of a winter day coming in with 10% of the vote each.
However roasting chestnuts came in penultimate position, with only 5% of the vote, as a scent that brings back Christmas memories.
Christmas is a feast for the senses with colourful decorations providing the backdrop, carols and our favourite Christmas songs providing the soundtrack and the wonderful variety of indulgent food and drinks providing the incredible scents and tastes. In fact, most of the people surveyed agreed that they had Christmas memories associated with particular scents, such as mum baking mince pies in the oven or having all of the family around the table for the traditional turkey dinner.
But why is memory so closely linked to our sense of smell? It is because we tend to make associations between smell and memory during childhood, explains Dr Mark Sergeant, a psychologist and senior lecturer in psychology at Nottingham Trent University.
"We associate odours with particular foods from a young age and then our brains go on to associate those smells with emotions."
Dr Sergeant says the sense of smell is closely tied to the emotional side of our brains. Odour is processed through the thalamus, a small structure deep within the brain that relays sensory information. The thalamus sends information about the scents we encounter to the hippocampus and amygdala, brain regions that are involved in learning and memory, which explains why certain smells remind us of different seasons and experiences.
"Smell is a comparatively limited sense, compared to vision and hearing," says Dr Sergeant, "but it helps us to make sense of the environment. And because of the way it is processed, it is a very emotional sense."
This is food for thought for Retroscents, as Gary Digva, managing director explains:
"If we could bottle the smell of Christmas and package it in an air freshener that would be a perfect way to bring the scent of Christmas into the car and hopefully make those winter commutes a bit more bearable. It's something we would love to launch as we know there would be a great market for it. Would you want it all year though?"
"PS, for me, you can't beat the classic chestnuts roasting on an open fire - now try getting that song out of your head!"