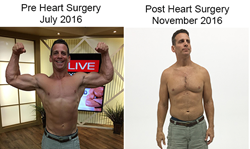 What good is this second chance at life if I can't help others?
Boca Raton, Florida (PRWEB) December 22, 2016
Blake Kassel, fitness guru and founder of Bodylastics Resistance Bands and Liveexercise Home Workouts announced today that he will be inviting everyone with resistance bands to join him in making a comeback in 2017.
After using resistance bands to build his body to top levels at 47 years old, Blake experienced a devastating set back in July of 2016. What was originally thought to be a bad case of allergies and asthma turned out to be a severely damaged Mitral Heart Valve creating 40% blood regurgitation (the blood was flowing in the wrong direction). Kassel explains: "I thought the shortness of breath was asthma, which I have had in the past, so I continued exercising. If my Doctor had not listened to my heart, as a last minute check before I left his office, I would probably not be alive today."
Mr. Kassel had to cease from all exercise activity starting in August, and had Open Heart Surgery to repair the valve on September 27th. His surgeon mandated that Resistance Training could not begin until after the start of 2017, to give ample time for the sternum to heal. Unfortunately, the rate of muscle atrophy (loss) was far beyond what Mr. Kassel had expected, "I have been resistance training since I was 15, never in my wildest dreams did I ever imagine that I would lose muscle so fast from inactivity. It was shocking!" So, Blake began to plan his comeback in 2017. He vowed to rebuild his body using only resistance bands and the workouts that he broadcasts from Liveexercise, which is a paid membership website.
However, Mr. Kassel wanted to celebrate his second chance at life by helping millions of people who need motivation, guidance and a partner to improve their health. Mr. Kassel explains "What good is this second chance at life if I can't help others? It's time to pay it forward. Millions of people who need to feel and look better have resistance bands lying around and collecting dust. They aren't using them. I invite all of them to wake up their muscles with me "LIVE" and On-demand in January at Liveexercise for free - forget about the money. This is about a better life"
Resistance bands are not usually considered to be an affective tool for building muscle. Over and over again since 2009, Mr. Kassel has proven this this to be incorrect with the changes to his body and hundreds of members. Blake states, "Most people who lift weights at the gym will tell you that you can't build muscle with resistance bands. This could not be further from the truth. Resistance bands naturally have built in properties that actually work the muscle harder at the optimal point of the exercise. However, you have to know how to train with bands. That's where I come in. This type of training is hands down the best way to build muscle while preserving your joints."
During the future multi-weekly broadcasts, viewers will be able to send "LIVE" messages directly into the studio. Mr. Kassel often interacts with these comments. The goal is to increase the success of the participant, by creating the feeling that they are not working out alone. Blake becomes their real life workout partner. Multiple studies prove that people who workout with a partner are considerably more likely to have success, and stick with an exercise regimen. For example a recent study by the Society For Behavioral Medicine concluded that the participants who exercised (in this case rode an exercise bike) with a partner, continued the activity for nearly double the amount of time per session versus the group that rode alone.
Each 35 minute video workout episode provides a follow along routine, motivation and instruction. People who register will be given the location for the weekly workouts and instructions on how to receive interactive support in a special Facebook group. Registration is at http://www.liveexercise.com/myturn