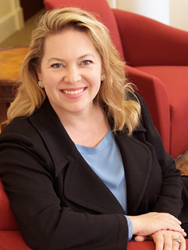 "Raquel's zeal for undergraduate education, coupled with her impressive set of experiences and accomplishments, make her uniquely qualified to lead our new College of Management." — Bucknell Provost Barbara Altmann
Lewisburg, Pa. (PRWEB) December 21, 2016
During her time as associate dean of the Williams School of Commerce, Economics and Politics at Washington & Lee University, Raquel Alexander has invested a great deal of energy infusing the liberal arts into the school's business curriculum.
"My passion lies with giving students a full understanding of the world, and equipping them with the critical thinking skills necessary to become contributing members of a global society," said Alexander.
As Bucknell University's first-ever Kenneth W. Freeman Professor & Dean of Management, Alexander will bring that passion — along with a wealth of professional and academic experience — to the University's soon-to-be established College of Management. She emerged as the clear choice for the position during an international search comprising a large pool of highly qualified individuals. || Related: Trustees Approve College of Management.
"Raquel demonstrated great energy and enthusiasm for engaging students with an innovative experiential undergraduate management education that is deeply integrated with the liberal arts," said Bucknell Professor of Management Tammy Hiller, who served on the 13-person search committee. "I'm thrilled to call her our new dean."
Alexander began her career as a tax consultant at KPMG. She went on to earn her doctorate in accounting from the University of Texas at Austin and held faculty appointments at the University of North Carolina Wilmington and the University of Kansas before joining the faculty at Washington and Lee in 2012. In her current role as associate dean at the Williams School, Alexander manages the school's Association to Advance Collegiate Schools of Business (AACSB) reaccreditation, oversees enrollment activities, and manages strategic planning initiatives that build connections between the business curriculum and the liberal arts. In addition to serving as associate dean, Alexander holds the appointment of the Ehrick Kilner Haight, Sr. Term Professor of Accounting.
Alexander's research focuses on tax policy related to personal savings and corporate taxation and has been published in top journals such as the Journal of the American Taxation Association, Behavioral Research in Accounting and the Journal of Law and Politics. She has written for The New York Times and her research has been cited in such media outlets as The Wall Street Journal, The Atlantic, Business Week and CNBC. Her work has led to reform in the college savings industry, and has been used by policy makers and regulators at the SEC, the Municipal Securities Rulemaking Board, Financial Industry Regulatory Authority and the White House. She has also consulted or provided executive education to a number of firms and investment professionals around the country and is currently the vice president for the American Taxation Association.
"Raquel's confidence, collaborative spirit and leadership qualities are immediately evident," said Provost Barbara Altmann, who chaired the search committee. "Her zeal for undergraduate education, coupled with her impressive set of experiences and accomplishments, make her uniquely qualified to lead our new College of Management."
Alexander succeeds Interim Dean of Management Michael Johnson-Cramer, who has been instrumental in management's transition to a college, including by leading the program through its first AACSB accreditation in 2013.
"The University is deeply grateful for Michael's wisdom, guidance and hard work, all of which helped us arrive at this moment," Altmann said. "I look forward to his continuing contributions as a respected member of our faculty."
Alexander will join Bucknell in July 2017 — the same month the University officially establishes its College of Management. The third college marks a historic milestone in the evolution of the University's management and business education, which dates back more than a century.
"Upon the strength of our academic core we will forge new bridges between arts & sciences, engineering and management, enabling Bucknell to deliver educational experiences and interdisciplinary opportunities unattainable at traditional liberal arts, engineering or business colleges," said Bucknell Board of Trustees Chairman Ken Freeman '72 after the board unanimously approved the new college in October 2015. Freeman previously endowed the deanship through a generous gift to the WE DO Campaign for Bucknell.
"Joining Bucknell at this time of great momentum is an extraordinary opportunity," Alexander said. "I look forward to collaborating with my new colleagues across the University to enhance and expand management's interdisciplinary offerings, and helping Bucknell further distinguish itself among undergraduate institutions."
"This is a rare moment in the life of our University," said President John Bravman. "Through Raquel's temperament and vision, and her achievements as both a faculty member and administrator, I am confident in her ability to help lead us through this pivotal moment in Bucknell's history."
In addition to her academic endeavors, Alexander enjoys attending soccer and basketball games with her family. She looks forward to relocating to the Lewisburg area with her husband, her three children and her mother.