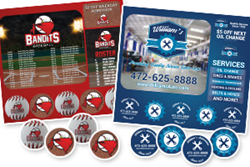 Spirit Sheets provide a rounded and visually exciting way for any kind of organization to reach its fans and followers
Denver, CO. (PRWEB) December 22, 2016
Promote a Team, Business or Event With This New Offering
Using stickers to promote a sports team, company or fundraising event is a matter of picking designs people will want to take home with them. Handing out a sticker as a promotional item doesn't help if the sticker ends up at the bottom of a trash can as soon as the recipient gets home. This is why Lightning Labels is proud to offer Spirit Sheets, a new design possibility for teams, organizations and companies that want to ensure they get maximum exposure.
With features specially calibrated to make appealing stickers available in limited quantities to appeal to groups of all sizes, Spirit Sheets are yet another customer-friendly offering from a company that prides itself on making the sticker and label ordering process as simple and trouble-free as possible.
A Purpose-Built Promotional Tool
Getting the word out about a sports team season, an upcoming event such as a fundraiser or a new business in town is easier with the help of an effective set of stickers. This is where custom Spirit Sheets shine.
"Spirit Sheets provide a rounded and visually exciting way for any kind of organization to reach its fans and followers," said Lightning Labels Director of Business Development, AnneMarie Campbell. "We're proud to add them to our product lineup."
Each sheet contains eight or nine stickers, depending on which of the three standard die configurations the purchaser chooses. Some of these are larger, and could be used to print schedules, sports team rosters, coupons, reminders - all things people may want to stick to their refrigerators, laptops or other household surfaces. With repositionable adhesive on the back, these stickers can be easily taken down or moved, making them even more convenient to have around the house.
The smaller stickers are round in two of the three configurations. That makes them perfect for logos, or several different sports-centric designs. Baseballs, basketballs, soccer balls, hockey pucks - all of these are possibilities. But what about football teams? That's where the third configuration comes in, with smaller stickers shaped like helmets, cheer megaphones and footballs. School and local teams can promote their seasons with the aid of team Spirit Sheets, based on an affordable standard shape but perfectly suited to team needs.
Easy to Order
As with all Lightning Labels products, this new offering is designed to be user-friendly. Order sizes can go as small as 50 units, which may be just the right amount for a sports team at a small school, a business reaching out to its first few customers or an item only open to members of a specific club or group. School administrators, team presidents and event organizers can order Spirit Sheets with the knowledge that they'll arrive quickly, due to Lightning Labels' commitment to digital printing and domestic rather than outsourced facilities.
Whether it's school Spirit Sheets to get students and parents excited for another sports season or semester, business Spirit Sheets to promote a company's offerings or team Spirit Sheets to appeal to fans of a local amateur or professional team, this new offering can be customized to any leader's specifications. Reaching out to customers via stickers is a great way to keep their minds on a company, and true to its customer-first ethos, Lightning Labels is here to make the process easy.
About Lightning Labels:
Lightning Labels uses state-of-the-art printing technology to provide affordable, full-color custom labels and custom stickers of all shapes and sizes. From small orders for individuals to the bulk needs of big businesses, Lightning Labels is equipped to handle and fulfill custom label and sticker projects of all types. Best of all, like the name implies, Lightning Labels provides a quick turnaround for every customer's labeling needs. Uses for Lightning Labels' custom product labels and custom stickers include food packaging and organic food labels, wine and beverage labels, bath and body labels, and nutraceutical products, such as vitamins, essentials oils, and herbal remedies, as well as event stickers, adhesive window stickers and more. Lightning Labels strongly supports the development of environmentally friendly printing materials and carries EarthFirst PLA, a new kind of green label material made from corn instead of petroleum. While operating as a high-tech printer, Lightning Labels prides itself on its personalized customer service. Lightning Labels provides one stop shopping for all of your custom label needs. For more information and to place orders online, visit LightningLabels.com. For the latest in packaging news and labeling promotional offers, find Lightning Labels on Twitter (@LightningLabels), Facebook, Pinterest, Google+ and LinkedIn.