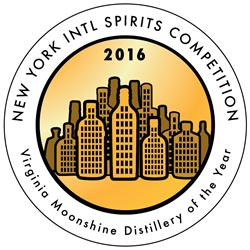 Bristow, V.A. (PRWEB) December 22, 2016
MurLarkey® Distilled Spirits won Silver for its Justice™ White Whiskey, and Bronze for its ImaGINation™ Gin at the 7th Annual New York International Spirits Competition.
The NYISC is recognized as one of the most respected international spirits competitions. Close to 600 spirits from around the world competed in a blind tasting where top spirits buyers from around NYC judged the spirits by both category and price.
"We were both surprised and honored to have won Silver and Bronze. Especially so close after winning Silver for Justice and Bronze for Divine Clarity [vodka] at this year's San Diego International Spirits Competition," said MurLarkey Founder & CEO Tom Murray. "It demonstrates to us that we are being recognized and embraced by the people who make decisions every day about what to buy for their customers."
Although not a "moonshine" distillery, MurLarkey also was named Virginia Moonshine Distillery of the Year. "This tickled us," said Murray. "Ironically, my cousin and I started MurLarkey with our Kelly family's poitín [Irish moonshine] recipes, so in a way this award is a tribute to the recipes the family brought from Ireland. Although we are a premium craft spirit distiller, we accept this award with honor and will display it with pride."
The MurLarkey distillery, located in Bristow, Virginia, is open for tastings six days a week. Their spirits are served at dozens of restaurants and bars throughout Virginia and Washington DC, and they can also be found in over 50 Virginia ABC stores throughout the state. Founders Tom Murray and Mike Larkin, along with General Manager Jim Larkin, Head Distiller Jesse Puckett, and the whole MurLarkey team, remain committed to true quality small-batch craft spirit production while expanding distribution in the U.S. and abroad.
About MurLarkey
Starting with a meager 23 gallon copper still, second generation Irish-American cousins Tom Murray and Mike Larkin, along with a small team of family and friends, began distilling high-quality, small-batch spirits. Using only the finest, all-natural ingredients, MurLarkey spirits are produced to uncompromising standards. Distilled to perfection, packaged with pride and delivered with cheer, MurLarkey embodies the Founders' heritage, culture and love for life.
MurLarkey is an American Distilling Institute (ADI) Certified Craft Distilled Spirit producer.