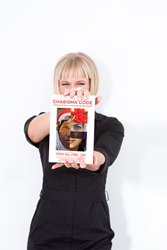 (PRWEB) December 21, 2016
Robin Sol Lieberman, http://www.RobinSol.com has won the 2016 Best of Los Angeles Award for "Best Personal Growth Book," according to Aurora DeRose, award coordinator for the Best of Los Angeles Award community.
Lieberman's book, The Charisma Code: Communicating in a Language Beyond Words, is a communication book designed to immediately connect you to others while lighting souls and ideas on fire. http://www.CharismaCodeBook.com
Robin Sol is a Cultural Anthropologist, Author and Social Entrepreneur. She speaks at prisons, the United Nations and with Fortune 500s. During this emotionally-heightened political period, Robin has been a regular TV and radio-guest expert on Fox, the CW and SiriusXM.
"The Charisma Code offers a wealth of tools for resolving conflict, inspiring engagement, and changing culture."
-Tony Hsieh, CEO, Zappos.com and author of Delivering Happiness
"The Charisma Code unlocks some best-kept secrets regarding living and leading from a power within us all. It removes some veils and restores our vision of things that matter the most."
-Marianne Williamson, #1 New York Times Bestselling Author
"The Charisma Code is a great manual for anyone who wishes to raise their energy level while connecting better in their work and personal relationships."
—Congressman Tim Ryan, author of A Mindful Nation
The "Best of Los Angeles Award" community was formed three years ago and consists of over 2,300 professional members living and working in Southern California. It celebrates the best people, places and things in Los Angeles with a slogan "No Ads. No B.S. Only the Best."
"The mission of the community it to celebrate the best of Los Angeles, and allows its community members to connect with other members who share the highest standards of quality and integrity," said Ms. DeRose.
"As an Anthropologist, I wrote The Charisma Code to help transform the way people different from one another relate to each other. On behalf off all those who, through necessity, have taught me to seek to understand before judging, I am honored to receive the "Best of Los Angeles Award" for The Charisma Code," said Robin Sol Lieberman.