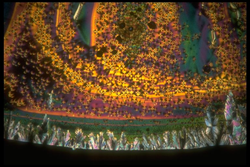 The research contribution made by Dr. McClurg is yet another example of SSCI's commitment to helping the industry gain a better understanding of cocrystals
WEST LAFAYETTE, IN (PRWEB) December 28, 2016
SSCI, a division of AMRI, announces the publication of "Taxonomy of Cocrystal Ternary Phase Diagrams" in the Journal of Chemical & Engineering Data , authored by Dr. Richard B. McClurg, research fellow at SSCI.
This publication follows the Lunch and Learn series hosted by SSCI in November and December 2016 that brought together more than 100 industry scientific experts and intellectual property leaders to discuss the implications of the latest FDA guidance on pharmaceutical cocrystals as drug substances.
The report establishes the value of using free energy surfaces as the basis of a classification system for cocrystal ternary phase diagrams. The three components in each diagram are the active pharmaceutical ingredient (API), coformer, and solvent. In addition to topologically distinct diagrams, phase diagrams are distinguished as to the congruent or incongruent dissolution of the cocrystalline phase. The diagrams are organized according to the set of solid phases and the number of three-phase regions. Phase diagrams and free energy surfaces are provided for representative examples of each illustrated case.
"The research contribution made by Dr. McClurg is yet another example of SSCI's commitment to helping the industry gain a better understanding of cocrystals," said Dr. David Engers, senior director and site head at SSCI. "Our full-suite of proprietary and patented methods for preparing and characterizing cocrystals allow SSCI scientists to solve the solid-state chemistry problems that arise during development of cocrystals, to create valuable intellectual property for our clients." Dr. McClurg added that, "The diversity of cocrystal phase diagrams classified in the report is much richer than many practitioners in the field would expect, particularly for solvated cocrystals. Being aware of these possibilities aids in the characterization of our clients' systems of interest."
The publication is available in print (Richard B. McClurg, J. Chem. Eng. Data, 61(12), 4313–4320.) and on the ACS website ([http://pubs.acs.org/journal/jceaax).
About SSCI
SSCI, a division of AMRI, provides industry leading contract solid-state and analytical testing services and exists to help companies in the pharmaceutical, food, agrochemical, and other chemical industries develop better products and get them to market more quickly. Over the past quarter century, SSCI has provided comprehensive cGMP research and analytical services in the characterization and chemistry of solid materials, with particular expertise in small and large molecules being investigated for pharmaceutical use. As the AMRI's Center of Excellence for Solid State Chemistry, its offerings include early candidate support services (in vitro analysis, stability, solubility, dissolution, excipient compatibility), solid form screening and polymorph, salt and cocrystal screening, form selection, particle engineering (process development, particle size method development), property improvement, crystallization of difficult materials, process control, biochemical analysis, full analytical chemistry support including method development and validation, intellectual property consulting and litigation support, and related research activities.
For more information about cocrystals or SSCI's other solid-state services, please contact 1-800-375-2179 | http://www.ssci-inc.com.