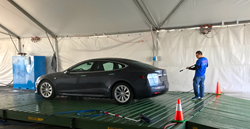 Our detailers can't keep up the ICW. We're washing over 300 cars per day!
Salt Lake City, UT (PRWEB) December 27, 2016
High demand for clean vehicles and little room available for a car wash have left companies with few options. The ability to drive consistent wash results for high customer satisfaction, to meet EPA compliance and budget requirements are the primary goals.
The ICW is a simple system. Select WASH or RINSE. 100% of the wash water is collected and recycled to be used for washing. Rinsing with optional RO or DI water provides spot free rinsing.
Here's what is all new:
1. A single WASH/RINSE switch for total operation
2. All collected wastewater is filtered and recycled to be used for washing
3. The Hydroblaster and microfiber brush use the recycled water for washing.
4. Trigger pull auto start is standard for the Hydroblaster pressure washer
5. Switch to rinse, and the Hydroblaster rinses with fresh water, or choose the option for RO or DI spot free water.
Recycled water is used through a Hydroblaster pressure washer or microfiber brush, to remove stubborn dirt and bugs, just like a self serve. When finished, a quick flip of the switch changes the wand to rinse (with fresh or spot free water).
Contact the experts at Hydro Engineering, Inc to get more information.
http://www.hydroblaster.com
801-972-1181
865 W 2600 S
Salt Lake City, UT 84119