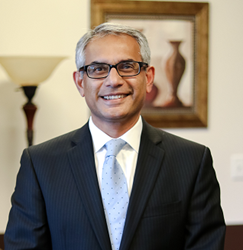 Dr. Shafi's appointment to lead our group reflects our ongoing commitment to return our patients to health through safe, timely, and effective surgery." - Sina Matin, MD
Grapevine, Texas (PRWEB) December 21, 2016
Surgical Group of North Texas is pleased to announce the appointment of Shahid Shafi, MD, as Chief Executive Officer, effective January 1, 2017. Dr. Shafi has been a surgeon with Surgical Group of North Texas since 2009.
After receiving his medical degree at Aga Khan University in Pakistan in 1988, Dr. Shafi moved to the US. He obtained a Master's Degree in Public Health from the Johns Hopkins University in Baltimore. He then went on to complete his General Surgery residency at New Jersey Medical School in Newark, NJ, and Trauma Surgery and Surgical Critical Care Fellowship at the University of Pennsylvania. Prior to joining Surgical Group of North Texas, he was an Assistant Professor of Surgery at the University of Texas Southwestern and Director for Trauma Surgery service line at Parkland Hospital in Dallas. He is currently pursuing an Executive MBA at Southern Methodist University in Dallas.
Dr. Shafi's experience in measuring and reporting quality of surgical care has earned him national and international recognition. He has published over 100 articles in medical journals, and has served in leadership roles at local, state, and national level in the medical field. He also serves as a Medical Director for Baylor Scott & White Quality Alliance. In this role, his primary focus is on improving quality of surgical care in the Quality Alliance's network of over 45 hospitals and over 4600 physicians across Texas.
Dr. Shafi is looking forward to his new role as the first CEO of the Surgical Group of North Texas. He plans to focus on maintaining high quality of surgical care provided by their surgeons, ensuring safe surgery, and treating patients and their families with kindness, compassion, and respect.
Dr. Sina Matin, one of the founders of Surgical Group of North Texas, stated, "Dr. Shafi's appointment to lead our group reflects our ongoing commitment to return our patients to health through safe, timely, and effective surgery. Dr. Shafi is fully committed to advancing our goals, and know that he will lead us through the next phase our growth."
# # #
About Surgical Group of North Texas
The Surgical Group of North Texas is an independent general surgery practice with eight surgeons who have provided high quality surgical care since 1991. They specialize in advanced hernia repair, bariatric surgery, breast cancer, incisionless reflux surgery, oncologic surgery, vein surgery, and minimally invasive advanced laparoscopic and robotic surgery. They practice at multiple locations, including hospitals affiliated with Baylor Scott & White Health, Texas Health Resources, HCA, Methodist, and other local hospitals.