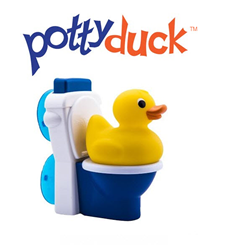 "Parents are often anxious about potty training, but it becomes fun and enjoyable when you use Potty Duck."
Grayslake, Illinois (PRWEB) January 04, 2017
After more than 60 years of floating around in bathtubs with little to do, the iconic rubber ducky now has an important mission―to make potty training fun for kids and easier for parents.
RUBBER DUCK TO REDUCE ANXIETY AROUND POTTY TRAINING
Introducing Potty Duck™—a squirting rubber duck and flushing toy toilet for boys and girls ages 1 to 3. By squeezing the soft rubber duck to make it pee, and flushing the toilet, children are actually learning the steps to go themselves.
How it works: Children play with the toy in a bathtub, sink, or small plastic tub. Using the toy as an example, parents teach their child the words: pee, toilet, flush, and "go potty." Next, parents encourage the child to practice sitting on a real potty to try to "go like the duck." Potty Duck becomes a child's favorite potty training buddy - while playing with water, for pretend play without water, and when imitating the duck to actually use the potty.
"Parents are often anxious about potty training, " says Dr. Shelly Mann, the pediatrician co-founder of Potty Discovery LLC, who tested the toy with her patients in 2016. "Parents tell us that Potty Duck makes potty training much easier. The rubber duck gives children a helpful example to imitate.""
In a recent Miami Herald supplement, Amy Baez wrote: "As an occupational therapist that uses a multi-sensory approach to learning through play, I would suggest the same for toilet training as well. Children can learn through kinesthetic, auditory, and visual learning styles, which are respectively synonymous with physical touch, hearing, and seeing. Potty Duck is a great toy that fortunately incorporates all three of these simultaneously."
RUBBER DUCK AIMS TO SAVE PARENTS HUNDREDS OF DOLLARS AND REDUCE LANDFILL WASTE OF DIAPERS
1948: Introduction of disposable diapers.
1949: Introduction of uncapsizable rubber duck.
2016: Introduction of Potty Duck, a rubber duck for potty training.
In the late 1940s, nobody could have guessed that the just-invented rubber duck and just-invented disposable diaper would both become ubiquitous in America. Since the invention of disposable diapers, the average age of completing potty training has significantly increased as well.
In 1999, The New York Times reported that the age at which children become diaper-free has steadily increased since 1957 when 92 percent were toilet trained by 18 months. By 2001, according to a report in the Ambulatory Pediatrics Journal, the average age of potty training completion in the U.S. had reached 35 months for girls and 39 months for boys.
Today, a typical baby undergoes 5,000 to 8,000 diaper changes, costing the average family $1,500 to $2,000 in diapers over the baby's first three years and resulting in landfill waste that takes 250-500 years to decompose.
For these reasons, part of Potty Duck's purpose is to help families corral the costs of disposables.
JUST $19.95 AT http://www.POTTYDUCK.COM WITH FREE SHIPPING
Potty Duck is available for purchase on Amazon and at http://www.PottyDuck.com. The toy comes with training instructions from Dr. Mann, meets or exceeds all safety requirements for children's toys, and is BPA-free and phthalate-free. Ten percent of its proceeds go to organizations that build toilets and improve sanitation for children around the world (Honduras and elsewhere). Packing is handled by Logan Industries, an Indiana company that employs people with disabilities. For more, go to http://www.PottyDuck.com.
##
ABOUT POTTY DISCOVERY LLC
Based near Chicago, Potty Discovery LLC is a social enterprise focused on making potty training fun and easy while bringing multiple social benefits. More at http://www.PottyDuck.com.
PRIOR MEDIA COVERAGE:
Little Lake County News (1/2/17)
http://bit.ly/2hPBIJh
Lake County Illinois Daily Herald (12/30/16)
http://bit.ly/2iIFhzk
Miami Herald supplement (12/01/16)
http://bit.ly/2hmzKQH
Marketplace magazine (10/01/16)
http://bit.ly/2huKi0A