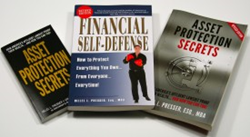 For every 60 minutes you spend making money, spend 60 seconds thinking about how to protect it
Boca Raton, Florida (PRWEB) December 22, 2016
In Florida, a home that is protected by homestead is considered a person's castle, impermeable from most threats. The Florida homestead exemption has three distinct components; creditor protection, real property tax exemptions and limitation on devise and descent. Most individuals merely know the exemption for its creditor protection, but the law expands well beyond that.
1. Understand the Qualifications for the Florida Homestead Exemption
The Florida homestead exemption is one of the most favorable in the country, if not the best. Accordingly, individuals and their properties must both qualify for the exemption. Specifically, an individual must be a resident of Florida and living in the state for six (6) or more months out of the year. This reaches most "snow birds" who travel from northern states to Florida for the winter. The property must also qualify. It must be a primary residence and located on no more than one-half of an acre within a municipality or 160 acres outside of a municipality. The homestead exemption must further be timely filed (between January 1 and March 1 of the year in which the homestead should apply). Finally, if you move to a new home, you must apply to "port" a homestead from a prior home to a new home (also known as portability).
2. Recognize the Unlimited Creditor Protection Inherent in Florida Homestead Laws
Article X, Section 4 Florida Constitution provides that a homestead property avails itself from the protections of prevention of a forced sale to satisfy the judgment of creditors. The protection in Florida is not limited by the value of the home, unlike other states. However, there are four exceptions; tax liens due to property taxes owed, specific liens due to mortgages and other voluntary instruments, mechanics liens, and/or claims of any creditor who has a judgment pre-dating the establishment of the homestead. The last exception is one of the reasons why timely filing and portability of the homestead exemption is extremely important.
3. Utilize the Property Tax Exemptions Inherent in Florida Homestead Laws
Once a homestead is established on a property, certain tax exemptions become available to the property owner. First, there is the general homestead tax exemption applied to the first $50,000.00 dollars of the value of the home. For instance, if a home is worth $100,000.00 dollars, the property owner will pay taxes on $50,000.00 of that value. Other tax exemptions available for homestead properties include the exemption for: widows or widowers, low income senior citizens, individuals on disability, deployed military owners, veterans and surviving spouses of first responders who have died in the line of duty.
4. Be Aware of the Increase in the Tax Exemption for Low-income Senior Citizens
Many localities in Florida have now increased the tax exemption for low-income senior citizens. For instance, the Broward County Commission recently passed an ordinance increasing the low-income senior's additional homestead exemption from $25,000.00 to $50,000.00 for the County portion of the property tax bill effective beginning in the 2017 tax year. A recipient must be aged 65 or older as of January 1, 2017, receive the homestead exemption on the property and have a combined household adjusted gross income for 2016 not exceeding $28,482.00. Individuals who may qualify are urged to contact their county property appraiser's office to determine whether any additional actions should to be taken to take advantage of the additional exemption.
5. Understand the Devise and Descent Protections and Limitations of Florida Homestead
Establishing homestead on a property causes certain limitations to apply as to who can succeed to the property upon an individual's death. This overlaps with the property's creditor protections. Specifically, an owner may not devise or leave their homestead by will, trust, or otherwise if survived by a spouse or minor child except to that surviving spouse and/or minor children. On the other hand, if there are no minor children or spouse, then the homestead may be transferred by will, trust or otherwise to anyone. As a practical matter, individuals should still consider transferring their homestead property to a revocable trust to avoid probate, otherwise, a summary administration and a petition to determine homestead with the court will have to be filed to effectuate the transfer.
The Presser Law Firm P.A., Asset Protection Attorneys, represents individuals and businesses in connection with the establishment of comprehensive Asset Protection plans that incorporate both domestic and international components.
Visit the Law Firm's Visit the Law Firm's website (http://www.AssetProtectionAttorneys.com) for access to educational material on asset protection, business law, estate planning, and probate including webinars, articles and detailed legal explanations.
Contact The Presser Law Firm, P.A., Asset Protection Attorneys for a Complimentary Preliminary Consultation with one of our attorneys or to receive complimentary copies of our latest best-selling books on Asset Protection.
"For every 60 minutes you spend making money, spend 60 seconds thinking about how to protect it!" states attorney Hillel L. Presser, Esq., MBA regarding the importance of protecting your assets proactively.