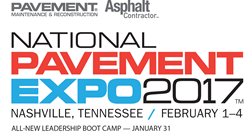 The National Pavement Expo show floor has grown significantly over last year with more new exhibitors than ever, so attendees will have a lot to see at NPE 2017, including a live sweeper rodeo.
Fort Atkinson, WI (PRWEB) December 28, 2016
With advance registration tracking more than 35% ahead of last year at this time, National Pavement Expo anticipates a door-buster event on Feb. 1-4, 2017, in Nashville.
Held at Nashville's Music City Center, National Pavement Expo (NPE) 2017 will feature four equipment giveaways, more than 55 conference sessions, and a larger trade show floor featuring vendors from all segments of the paving and pavement maintenance industry: paving, sealcoating, pavement repair, crack repair, striping, sweeping and snow removal.
"The show floor has grown significantly over last year with more new exhibitors than ever, so attendees will have a lot to see at NPE 2017," commented Amy Schwandt, NPE show manager and publisher of Asphalt Contractor and Pavement Maintenance & Reconstruction magazines at AC Business Media. "Attendees will love the four equipment giveaways and the sweeper rodeo live on the show floor."
The expo opens its doors on Wed., Feb. 1, with Preview Night, sponsored by SealMaster. Attendees get a first look at the Exhibit Hall while enjoying complimentary food, beverages and live music.
Conference Sessions
National Pavement Expo kicks off its conference program on Jan. 31 with an all-day Relentless Leadership Boot Camp led by Brad Humphrey of Pinnacle Development Group. Humphrey is one of the most successful leadership training professionals in the construction industry.
The conference continues Feb. 1-4 with 55 workshops and seminars addressing management, paving, repair, sealcoating, cracksealing, striping and sweeping topics.
"Far and away, the most-requested topics by contractors are management-related," explained Allan Heydorn, conference manager and editor of Pavement Maintenance & Reconstruction magazine. "In 2017, we are offering 20 business management sessions that cover topics from employee hiring, retention and motivation, to leadership planning, marketing and selling strategies."
The conference's skills sessions address all aspects of paving and pavement maintenance. "Attendees leave these sessions with expanded skills and knowledge they can immediately apply on the job," Heydorn said.
Exhibit Hall
The Exhibit Hall features Weiler, Bobcat, BOMAG, CASE Construction, Crafco, Accredited Snow Contractors Association, SealMaster, TYMCO, Graco, Schwarze Industries and many more.
This year's show invites attendees to register for four equipment giveaways: KM International Crack Maintenance Trailer Package, Neyra 10-Gallon Propane Fired Melter/Applicator, RynoWorx RY 10 Professional Crack Fill Melter Applicator and Able Industries 30-Gallon Melter and Brush Boxes. Winners must be present for the drawings to win.
Earlier this year, AC Business Media announced Emerald Expositions as the new owner of National Pavement Expo. Emerald Expositions produces more than 80 B2B trade shows and conference events each year. Pavement Maintenance & Reconstruction magazine, an AC Business Media brand, will continue to serve as the official publication for NPE.
For details, pricing and registration, visit NationalPavementExpo.com.
About AC Business Media
AC Business Media is a business-to-business media and data company with a portfolio of renowned brands in heavy construction, asphalt, concrete, paving, rental, sustainability, manufacturing, logistics and supply chain markets. AC Business Media delivers relevant, cutting-edge content to its audiences through its industry-leading digital properties, trade events, videos, magazines, webinars and newsletters and provides advertisers the analytics, data and ability to reach their target audience.