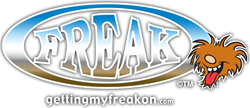 In a way, I had to lose my sight to find my real vision.
(PRWEB) December 22, 2016
For most people, having their lifelong dreams of becoming a world-class high-performance athlete, a professional football player, and a career firefighter all come to a crashing halt at just 22 years of age due to debilitating vision loss wouldn't just be a challenge -- it would be catastrophic. But Chris Delaney isn't like most people. And that's why Delaney, who has been hailed by Maclean's magazine's as a "Top 100 Canadian to Watch," has launched Freak Apparel: a line of consumer products designed to inspire people of all ages and from walks of life to overcome the odds, and turn obstacles into opportunities.
Freak Apparel, which makes its home on the web at https://www.gettingmyfreakon.com, currently carries a growing selection of t-shirts, shirts, sweaters, mugs and pillows, with additional product categories in the works. All items are emblazoned with a signature Freak Apparel brand character -- such as a winter hat-wearing "Snow Freak" and barbell-lifting "Gym Freak" -- and made from top-quality materials like 100% California fleece-free cotton. Gift cards are also available.
Since launching Freak Apparel, in just a few days nearly 20,000 people have flocked to https://www.gettingmyfreakon.com to purchase items for themselves and as gifts, and watch an emotional and uplifting video that highlights Chris Delaney's remarkable story of hitting rock bottom, and finding the courage and character to climb back up -- one step at a time.
"From very early on, I was a highly competitive athlete, and I was on-track to becoming a professional football player and then eventually a career firefighter," commented Delaney, who in the late 1990s raised $250,000 for eye research by becoming the first Canadian to cycle 100 miles a day for three months across Canada. "But in my early twenties, I started experiencing vision problems and within a year I was legally blind. Overwhelmed, my life began to spiral downwards. It was literally a choice between life and death. Somehow, in that agony I recalled what it was about competing and training that really mattered to me: it was about setting goals, achieving them, and then setting the bar higher and doing it again. That's when the freak in me was born, and that paved the way for what has now become Freak Apparel. In a way, I had to lose my sight to find my real vision."
Added Delaney, who has helped build schools in Africa, and currently works as a personal trainer: "There are people around the world who have hit rock bottom, or they're having a hard time and are on the way down. Freak Apparel isn't an online store that sells stuff. It's a community, a movement and a mindset. It's a way for people to tell themselves and others that no matter what life has thrown their way today or has in store tomorrow, they have the inner strength and power they need not just to survive, but to truly thrive. Freak Apparel celebrates this dedication and spirit, and helps the growing members of Freak Nation truly let their freak out."
In a separate but related development, Delaney is currently in discussions with registered non-profit organizations that would see portions of sales donated to support the prevention and treatment of concussion-related injuries. Once the fundraising relationship is finalized and official, details will be posted to the website.
People who want to learn more about Freak Apparel and discover why thousands of people have already started to "let their freak out" can visit https://www.gettingmyfreakon.com.
Media, interview, sponsorship and fundraising inquiries can be directed to info(at)gettingmyfreakon(dot)com for a prompt response.