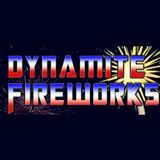 Hammond, Indiana (PRWEB) December 27, 2016
Second only to the Fourth of July in the United States, New Year's Eve is well known as a top fireworks holiday. Though the professional displays around the world are legendary, many people prefer to put on their own backyard fireworks show.
Hammond, Indiana's Dynamite Fireworks has been providing customers with all of the information they need for more than 40 years. Owner Kris Zambo reminds everyone that safety is paramount when planning a display. "Large, loud and high altitude aerial fireworks with multiple colors and effects are the most popular items for New Year's fireworks displays," said Zambo. "As these items typically contain the most powder and propellant, it's very important to take extra care with their set-up, launch and clean-up."
According to Zambo, "High quality, year round fireworks stores can be difficult to find in many areas of the country, making the pursuit of New Years Fireworks somewhat difficult for many." Zambo explained, "Even if you are lucky enough to find a fireworks store open this time of year, unless you are working with a reputable knowledge supplier, it can still be tough to understand the quality, safety, and legality of the items presented."
Dynamite Fireworks offers six ways to determine whether a fireworks supplier is reputable.
1. Experience
Potential buyers should find out about the supplier's overall experience in the industry, as well as in different niches. How long has the company been open? How many sales do they have each year? Do they focus on commercial fireworks, home shows, or something else? The ideal supplier has a broad base of experience.
2. Reputation
The next step is to explore the company's reputation. Potential customers should do a little digging to find out what others think. Does the supplier have a loyal customer base? Are there testimonials on the company's website? What do the online reviews say?
3. Quality
Product quality is essential when dealing with something as potentially dangerous as fireworks. Those that are poorly made are at risk for premature detonation or misfires, while those that are of high quality can be safely stored for many years. Of course, buyers should leave immediately if M-80s or other illegal products are offered, or if consumers are allowed to purchase professional 1.3G fireworks without a license.
4. Product Knowledge
Creating a New Year's Eve display is both an art and a science, and a good fireworks supplier has the necessary knowledge to walk beginners through the process. Potential customers should seek a supplier who is well-informed and eager to help, rather than simply trying to unload products.
5. Legal Knowledge
Consumer fireworks are primarily regulated at the state, county, and city levels. A reputable fireworks supplier should have a strong working knowledge of the relevant laws, and should be able to communicate that information to each customer. Of course, buyers from out of town may find that the supplier is not an expert on their particular local laws. In that case, the supplier should be able to point out general concerns and direct the buyer to resources for more information.
6. Safety Tips
Reputable fireworks suppliers understand the inherent risks involved with fireworks, and proactively offer tips for safe handling. If the company simply pushes products at buyers without any safety explanations, buyers should think twice about purchasing large, possibly dangerous fireworks from them.
Fireworks are a major part of New Year's Eve, and Dynamite Fireworks stands ready to help. As Zambo notes, "Fireworks are a terrific addition for any festivity, especially a New Year's Party; however, common sense, caution and sobriety of the designated igniter are the keys to success and safety for all your guests!"
About Dynamite Fireworks
Less than 1 mile from the Indiana-Illinois state line, Dynamite Fireworks is the closest fireworks store to Chicago, and is open year-round. Visit Dynamite Fireworks at 4218 Calumet Ave, Hammond, IN. Call (219) 937-4090 for more information, or go to https://dynamitefireworks.com/.