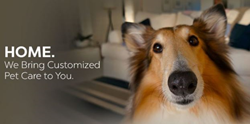 "I know we needed a website that matched the level of professionalism---and warmth—that comes when you hire us." Joette White, President of Park Cities Pet Sitter
Dallas, Texas (PRWEB) December 22, 2016
Dallas and Plano pet sitting company, Park Cities Pet Sitter, debuted their brand new website this week, just in time for their busiest season of the year—the Christmas and New Year's holidays. The new Word Press website was designed by Macky O. from Macky Designs, a Miami-based graphic designer. The five month collaboration on the website resulted in a modern, photo-friendly website that incorporates the new logo and motto Park Cities Pet Sitter debuted earlier this year.
Park Cities Pet Sitter President, Joette White, was thrilled to launch the new website this week, saying it looked and felt like a more accurate representation of the polished and professional organization she runs, more so than her previous website did. "Like many companies, Park Cities Pet Sitter has really evolved over the last 6 or 7 years," said White. "I know we needed a website that matched the level of professionalism---and warmth—that comes when you hire us. We have worked incredibly hard over the past years to grow the company, while maintaining incredibly high service standards, and we wanted our website to depict that as well. We also needed a site that was more user-friendly to make updates to on a regular basis, and one that was more mobile-friendly. We definitely hit a home run in all areas with the site Macky Designs created for us."
Park Cities Pet Sitter's new website features large landscape images at the top of each page, many with pet images that are both humorous and endearing. Choosing the images for the site was a key component to the design according to White, and a lot of thought was put into whether each photo would provide the proper sentiment about the company. "Pet sitting, dog walking and dog training of people's beloved pets has a lot of layers to it that many people might not think about," said White. "Yes, there are adorable pets that often do humorous things. But we also want to convey the importance of teamwork when it comes to providing great service to our clients, and emphasize the advantage of working with a company like ours that has been in business for 24 years. Experience is a huge advantage we have compared to our competitors, and it shows in our level of our professionalism. We wanted all of those traits to come across in our new website, so selecting images was a big part of conveying that message."
In addition to having detailed information about the services Park Cities Pet Sitter provides, the website also showcases the company's mission, allows both new and existing clients to make reservations directly from the website, and features a section of Frequently Asked Questions. To view the company's new website, go to http://www.pcpsi.com.
About Park Cities Pet Sitter: PCPSI has served the Dallas/Plano areas 7 days a week, 365 days a year since 1992, and was recently named the 2017 Business of the Year by the National Association of Professional Pet Sitters. Pet sitting, daily dog walks, pet taxis, overnight sitting, pet supply shopping, litter box cleaning and dog training are all part of the services PCPSI offers. Park Cities Pet Sitter is bonded and insured, and all sitters are employees--not independent contractors. A manager is on-call 24 hours a day to handle any emergencies. Go to http://www.pcpsi.com to learn more.