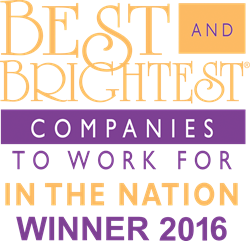 We feel our company is not only one of the best and brightest to work for, we also have a staff of some of the best and brightest in the nation and are excited to share this award with them
Royal Oak, MI (PRWEB) December 27, 2016
The Best and Brightest Companies to Work For® competition identifies and honors organizations that display a commitment to excellence in operations and employee enrichment that lead to increased productivity and financial performance. This competition scores potential winners based on regional data of company performance and a set standard across the nation. This national program celebrates those companies that are making better business, creating richer lives and building a stronger community as a whole. There are numerous regional celebrations throughout the country.
The Best and Brightest Companies to Work For® award has been recognizing companies for six years. The 2016 winning companies were assessed by an independent research firm, which reviewed a number of key measures relative to other nationally recognized winners. They include Compensation, Benefits and Employee Solutions; Employee Enrichment, Engagement and Retention; Employee Education and Development; Recruitment, Selection and Orientation; Employee Achievement and Recognition; Communication and Shared Vision; Diversity and Inclusion; Work-Life Balance; Community Initiatives; Strategic Company Performance and the Best of the Best Small Business.
Of the 1700 applicants, 346 were recognized as 2016 Best and Brightest Companies to Work For® in the Nation. HRPro/Benepro is proud to be selected for this award.
"We are proud to be selected by the National Association for Business Resources for this award and honored to be included with other great national businesses," says Kristopher Powell, CEO and President of HRPro/BenePro. "We feel our company is not only one of the best and brightest to work for, we also have a staff of some of the best and brightest in the nation and are excited to share this award with them."
To see the complete 2016 List of the Best and Brightest Companies to Work For®, visit 101bestandbrightest.com.
About HRPro/BenePro
HRPro/BenePro is one of Michigan's top HR and benefit advisory and administration firms, offering a Total People Solution for small to mid-sized companies. HRPro/BenePro strives to create a fun, collaborative culture that puts an emphasis on customer relationships and personalized service. Recently celebrating their 25 year anniversary, they are constantly working to stay ahead of latest trends and needs in the industry. Their mission is to work closely with organizations to understand and help them achieve their human capital goals, increase productivity, increase employee morale, ensure compliance and build a strong, lasting HR foundation. For more information visit the company's website at http://www.hrbenepro.com.