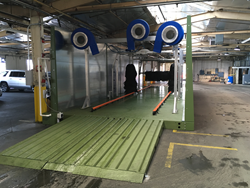 We set up our car wash in a warehouse and were washing cars within days!
Salt Lake City, Utah (PRWEB) December 27, 2016
Cars need to be washed, a lot of cars, but an automatic car wash isn't readily available.
There is much to think about when looking into building an automatic drive thru car wash. Find a location, then an architect to provide the concept and layout, get building permits, find a good contractor that can be trusted, get financing in order and plan on time, a lot of time to complete this construction project.
Now, there is another direction to go that can provide a drive thru car wash that eliminates all of these issues. This is the first automatic car wash that is completely above ground and does not require construction.
Here are the unique characteristics of this system;
1. No architect, no construction and in many cases, no permit when not connecting to sewer
2. Wash / Collect / Reclaim all wastewater, and it's all above ground
3. Connect to power and water and begin washing
4. Hydropads collect wash water above ground, eliminating in-ground tanks
5. You choose the drive thru wash equipment that you prefer, (or Hydro Engineering, Inc. can assist), and it mounts on top of Hydropads
5. Wash and rinse water is collected and recycled
Hydro Engineering, Inc.'s automatic drive thru car wash not only washes cars, but allow for environment requirements to be met. Because this is equipment, and not a construction project,
Contact the experts at Hydro Engineering, Inc to get more information.
http://www.hydroblaster.com
801-972-1181
865 W 2600 S
Salt Lake City, UT 84119