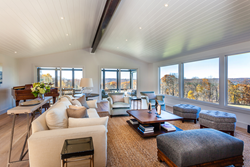 Washington, Conn. (PRWEB) December 22, 2016
William Pitt Sotheby's International Realty announced today that the firm has listed for sale ten condominiums at Wykeham Rise, a $70 million luxury inn project to be managed by Ocean House Management Collection and just now breaking ground in Washington, Conn. The new development project is the largest to ever hit the regional market area. Jeffrey Phillips and Mark Madonna of William Pitt Sotheby's International Realty's Washington Depot brokerage are the exclusive listing agents.
Conde Nast Traveler has ranked Ocean House among the top hotel destinations in the country and the world. The resort is also a member of Relais & Châteaux, an AAA 5-Diamond award winner and one of only eight Forbes triple Five-Star hotels worldwide. The original Ocean House in Watch Hill, R.I., dates back to 1868 but was more recently rebuilt and reopened, with respect to the original design, as a luxury boutique hotel in 2010. Ocean House Management also manages three other marquis properties: Weekapaug Inn, Watch Hill Inn and Spicer Mansion, all of which have been internationally awarded as well. Wykeham Rise will join as the fifth in the Ocean House Management Collection. Separately, Mr. Royce will be making a personal investment in Wykeham Rise in support of the project on behalf of his family.
Wykeham Rise represents Ocean House's first foray into the woods, and up into Litchfield County. The retreat will be set on 27 acres overlooking Washington's rolling hills, and include a farm-to-table restaurant; spa and fitness building offering classes, daily hikes and the ultimate in pampering services; hilltop pool; fifth-floor library with floor-to-ceiling windows for sunset views; and chic common areas. The buildings will be rustic and elegant in style, built with wood and stone facades, and large windows to frame the views. Blending modern and vintage, the interiors are by reputable designer Karen Davis. Bruce Glickman and Wilson Henley of Duane Modern will lend their design advisory services including custom furniture for the inn's bedrooms and public spaces.
The ten condominiums for sale will total over $38 million in listing volume, ranging in price from a 785 square-foot, one-bedroom for $1,150,000 to a 4,300 square-foot, four-bedroom duplex for $7,200,000. Ownership of a condo comes with all of the luxury amenities received by guests, and a unit with a prime location in the building, a personal residence owner manager, and the option to place the residence in a rental share program for revenue when not in use.
According to investment professional Erika Klauer, managing member of Wykeham Rise, construction on the project is expected to be completed in two years.
"This hotel project is ideally located in a sought-after destination town for both New Yorkers and Boston residents, an area that exudes charm and fully embraces its natural surroundings and New England countryside sensibility," said listing agents Jeffrey Phillips and Mark Madonna. "We are thrilled to have the exclusive opportunity to bring these luxurious condominiums to the market on behalf of Wykeham Rise and Ocean House, a name that is associated with the very finest in properties and hotel services." 
For more information on Wykeham Rise, please visit the project's website here.
###
About Ocean House
Ocean House, one of New England's last grand hotels, re-opened its doors in June 2010 after a $140 million rebuild and restoration. The 148-year-old property, originally built just after the Civil War, is perched high on the bluffs in Watch Hill, R.I. Guests enjoy sweeping views of the Atlantic Ocean, Montauk and Block Island from the resort's 49 guestrooms and 18 signature suites. Farm-to-table casual and fine dining, the 12,000-square-foot OH! Spa and more than 10,000 square feet of event space make the Ocean House ideal for mid-week business retreats, close-to-home family vacations, weekend luxury escapes and destination weddings. This stately property is a member of Relais & Châteaux, an association of 475 of the finest hotels and gourmet restaurants in 55 countries that has set the standard for excellence in hospitality. For more information, please visit http://www.oceanhouseri.com or call 401-584-7000.
About William Pitt and Julia B. Fee Sotheby's International Realty
Founded in 1949, William Pitt and Julia B. Fee Sotheby's International Realty manages a $3.9-billion portfolio with more than 1,000 sales associates in 24 brokerages spanning Connecticut, Massachusetts, and Westchester County, New York. William Pitt and Julia B. Fee Sotheby's International Realty is the largest Sotheby's International Realty(R) affiliate globally and the 28th-largest real estate company by sales volume in the United States. A full-service real estate firm headquartered in Stamford, Connecticut, William Pitt and Julia B. Fee Sotheby's International Realty provides ancillary services including commercial services through its affiliation with Building and Land Technology, a second-generation development company based in Stamford, Connecticut; William Pitt Insurance Services; and an award-winning global relocation division. For more information, visit the website at williampitt.com.
Sotheby's International Realty's worldwide network includes approximately 19,000 sales associates located in approximately 850 offices throughout 65 countries and territories.