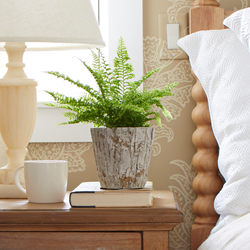 Houseplants add high impact and eco flair for an easy transformation that rivals expensive makeovers.
Miami, FL (PRWEB) December 23, 2016
Green has never been more popular. And this winter, when many of us could use a touch of life inside, the Pantone Color Institute has spoken. The 2017 Color of the Year, "greenery," is ready to step up to the plate.
The vibrant green hue with yellow undertones signals a need to start anew and reconnect to nature.
Look for greenery everywhere in the next year, from weddings, to kitchens and to the oxygen-producing leaves of houseplants from Costa Farms.
"While Serenity and Rose Quartz, the PANTONE Color of the Year 2016, expressed the need for harmony in a chaotic world," said Leatrice Eiseman, Executive Director of the Pantone Color Institute "Greenery bursts forth in 2017 to provide us with the hope we collectively yearn for amid a complex social and political landscape. Satisfying our growing desire to rejuvenate, revitalize and unite, Greenery symbolizes the reconnection we seek with nature, one another and a larger purpose."
Houseplants add high impact and eco flair for an easy transformation that rivals expensive makeovers. Whether you choose lush ferns or low-water succulents, houseplants fit any lifestyle, mood and taste.
According to Justin Hancock, garden expert from Costa Farms, the company's plant finder is the ideal tool for finding the perfect plant in the right shade of greenery.
"We want to help you find the perfect plants for your favorite spaces at home and work, and our website does just that," he said.
Hancock suggest these top five houseplants to add greenery:
1. Ferns –Indoor ferns come in a wide variety of sizes, shapes, and shades of green, making them perfect for accessorizing indoor spaces. Textural and elegant, many ferns have a timeless look working with practically every décor style.
2. Pothos – Easy-care and elegant, pothos is a vine that can grow in trailing form from hanging baskets, climbing up an indoor trellis, or growing horizontally along a mantle. Pothos tolerates a wide range of growing conditions and shows off fresh, variegated heart-shaped leaves.
3. Dracaena – One of the most common and easiest to grow plants, dracaenas are the perfect addition to desks and table tops. As they grow, dracaenas show off tree-like woody stems. Over time, these stately plants can grow 5 or 6 feet tall. They're ideal for adding a bold splash of texture to indoor decor.
4. Chinese Evergreen – The striking striped leaves and occasional flowers of Chinese Evergreen make it one of the most attractive plants available for interiors. Plus, it can be neglected for long periods and still be happy. Grow in groups of multiples to give rooms a rainforest feel.
5. Lucky Bamboo – With intricately arranged stems,lucky bamboo is a fun addition to any space. This slow-growing houseplant is easy to care for in a low- or medium-light spot. Find lucky bamboo in an almost endless variety of arrangements, including heart shapes, twists, curls and more. Because lucky bamboo typically grows in water, personalize it by placing in a watertight container and secure stems in place with marbles or stones.
About Costa Farms: Costa Farms is one of the nation's largest growers of ornamental plants. Founded in 1961 by Jose Costa, Costa Farms is a third-generation, family-owned business that globally stretches over 3,500 acres and employs 4,000 people. Along with thriving indoor and bedding plant divisions, Costa Farms operates merchandising and young-plant production divisions as part of its infrastructure, with operations domestically in South Florida and North and South Carolina, and abroad in the Dominican Republic and Far East.