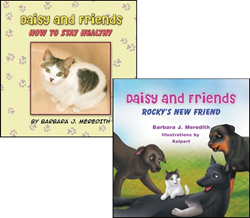 "Coming from the mouths of these charming animals, this children's book series offers some important lessons for young readers." - Robert Fletcher, CEO of Strategic Book Publishing and Rights Agency
(PRWEB) January 04, 2017
Retired pre-school teacher Barbara J. Meredith knows how important it is to live a healthy lifestyle. She also knows that there is a way around being bullied. The author covers these topics in her two clever children's books, "Daisy and Friends: How to Stay Healthy" and "Daisy and Friends: Rocky's New Friend."
In her first book, "Daisy and Friends: How to Stay Healthy," Daisy the tiger cat and her three dog friends, Smokie, an Italian Mastiff, Rocky, a German Shepherd, and H-Dee, a Rottweiler, teach kids about the importance of being healthy and staying safe.
The animals discuss proper nutrition, and what to do when meeting a stranger, limiting TV time, playing outside, and more. Making safe and healthy decisions has never been easier!
Bullying is not exclusive to humans. In "Daisy and Friends: Rocky's New Friend," Rocky is bullied by a smaller dog at the dog park. But Rocky is one smart German Shepherd. He knows exactly what to do to turn the bully into a friend. What is his secret?
This insightful book shows the truth about bullying and how to get along with others. Wouldn't it be wonderful if everyone could get along?
About the Author: Barbara J. Meredith was co-owner of Kids Express Learning Center & Daycare, LLC until her retirement in 2013. She was also the director and head teacher for 14 years. Portions of the proceeds of this book will be donated to Kitty of Angels in Coventry, Connecticut, and to Bandits Place, Inc. of Connecticut. "The animals in the "Daisy and Friends" books are my actual pets. The inspiration for the books came from over 20 years as a pre-school teacher observing children's behaviors."
"Coming from the mouths of these charming animals, this children's book series offers some important lessons for young readers. We are extremely proud to be the publisher," said Robert Fletcher, CEO of Strategic Book Publishing and Rights Agency.
DAISY AND FRIENDS: HOW TO STAY HEALTHY (ISBN: 978-1-60911-677-4) is now available for $13 and can be ordered through the publisher's website:
http://www.strategicpublishinggroup.com/title/DaisyAndFriends-HowToStayHealthy.html.
DAISY AND FRIENDS: ROCKY'S NEW FRIEND (ISBN: 978-1-62857-436-4) is now available for $11 and can be ordered through the publisher's website: http://sbprabooks.com/BarbaraJMeredith.
Both books are also available through Amazon.com and BarnesandNoble.com.
WHOLESALERS: These books are distributed by Ingram Books and other wholesale distributors. Contact your representative with the ISBN for purchase. Wholesale purchase for retailers, universities, libraries, and other organizations is also available through the publisher; please email bookorder(at)sbpra.net.