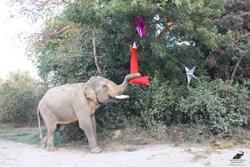 Mathura, India (PRWEB) December 23, 2016
Mohan the elephant received a "jumbo-sized" stocking filled with elephant treats to celebrate Christmas at the Elephant Care and Conservation Center. Indian media had once christened Mohan the "unluckiest elephant in the world" based on a long history of captivity with an abusive owner. According to the Times of India, "Decades of overwork, abuse and neglect had left him with severe psychological trauma as well as physiological ailments, which are evident from the countless scars and puncture wounds across his severely malnourished body." After almost two dozen court hearings, the "unlucky elephant" was finally granted a new home at a wooded sanctuary run by preservation group Wildlife SOS. Now he is recovering from a lifetime of abuse at the center devoted to rehabilitating severely mistreated elephants
Mohan's rehabilitation includes daily veterinarian treatments, baths, and long walks. It also includes introducing him to what the group calls "enrichments," which feed his curiosity and challenge his thinking while providing nutrients. The 5-foot-long stocking, while a very nice holiday gesture, is really an enrichment in disguise. In a video prepared by Wildlife SOS, Mohan can be seen tearing into the stocking with the gusto of young child, certainly not the "unluckiest elephant."
Happy holidays, Mohan!
For more information, please contact Wildlife SOS Communications Lead John Pecorelli at (801) 750-0301. Email: john(at)wildlifesos(dot)org.
About Wildlife SOS: A non-profit organization, Wildlife SOS is one of the largest rescue and conservation charities in South Asia, operating 10 wildlife rehabilitation facilities across India, including the world's largest sloth bear rescue center and the recently established Elephant Conservation and Care Center, which is the first in India and currently houses 22 rescued elephants. Wildlife SOS runs a tribal rehabilitation project that aims to create an alternative livelihood for poachers and other indigenous communities that once depended on wildlife for a livelihood. We also run a leopard rescue center, a wildlife hotline in New Delhi and Agra, and Forest Watch, which is an anti-poaching wildlife crime enforcement unit. More information about the organization can be found at http://www.wildlifesos.org. The U.S. branch of Wildlife SOS is based in Salt Lake City, Utah, ands received 501(c)3 charity status in 2005.