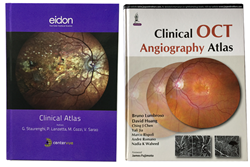 Harlow, Essex (PRWEB UK) 23 December 2016
Haag-Streit UK (HS-UK), the leading manufacturer and distributor of gold-standard optometry and ophthalmic equipment, is delighted to confirm that two FREE text books will be offered to delegates attending the HS-UK Retina Symposium 2017.
The complimentary books have been provided by colleagues at Optovue and CenterVue and will be available for all attendees to take away as part of their delegate pack. 'Clinical OCT Angiography Atlas' by Bruno Lumbroso is a comprehensive guide to this important imaging modality in ophthalmology. The book is divided into two parts; the first covers the technology and interpretation of OCT-A, the second covers the study of diseases and disorders using OCT-A.
The second book, 'The Eidon Clinical Atlas' is an essential book on retinal imaging by Professor Giovanni Staurenghi. Professor Staurenghi's research, publications and lectures focus on different types of imaging and their treatment.
Dr Pearse A. Keane, Moorfields Eye Hospital, will be chairing the Symposium. The Keynote Lecture 'Why 2RT? 50 Years of Science' will be delivered by Prof John Marshall MBE, Professor of Ophthalmology, Institute of Ophthalmology. Other confirmed members of the Faculty include;

Prof Giovanni Staurenghi, University of Milan
Dr Michel Puech, Ophthalmologist, VuExpolora Institute of Paris
Mr Nishal Patel, Consultant Ophthalmic Surgeon, Kent & Canterbury Hospital
Mr Marco Morales, Ophthalmology & Visual Science Nottingham University
Mr Serge Pierrache, International Sales Director, EMEA Optovue.
The Symposium will cover a variety of topics, including;
OCT angiography (OCT-A), including its use in diabetic retinopathy DMO and AMD
SLO microperimetry
Wide-field, true colour and auto-fluorescence imaging.
Visit http://www.haagstreituk.com/retinasymposium to secure a place and receive these two free essential retinal imaging text books. The delegate price for the Symposium is £100, which also includes lunch and refreshments. The event will be held at the historic Midland Hotel in Manchester on 30th January 2017.
For further information, please contact Jane Smith, Training Co-ordinator, at jsmith(at)haag-streit-uk(dot)com or by calling (01279) 456266.