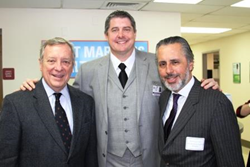 "That's why we're here today, to give the people that live in this neighborhood and in this area a medical home. A place to go. Not the emergency room."
Chicago, IL (PRWEB) January 05, 2017
U.S. Senator Dick Durbin helped cut the ribbon on the Aunt Martha's Roseland Medical Center located within the walls of the New Roseland Community Hospital (New RCH) on Thursday, December 15.
The partnership between Aunt Martha's Roseland Medical Center and the New RCH was created to ensure non-emergent care be treated in the appropriate primary care setting, allowing providers to better manage population health and make significant savings to the Medicaid program in Illinois.
"It's great to be back at Roseland," Sen. Durbin said. "You know it's interesting if you look at healthcare statistics because it's a map that might surprise you. I was given some figures by researchers at the University of Illinois here in Chicago and they took a look at this neighborhood. What's different about this neighborhood than a place that's 20 minutes away? Here's the difference. The colorectal and breast cancer rates are twice the national average in this neighborhood. Prostate cancer rates, three times the national average in this neighborhood. Why? Lower income families who are struggling and don't have access to regular care. One of the solutions is right in front of us and that's why we're here today, to give the people that live in this neighborhood and in this area a medical home. A place to go. Not the emergency room."
The ribbon cutting event featured New RCH President and CEO Tim Egan, Aunt Martha's CEO Raul Garza, Illinois State Senator Tony Munoz, Illinois State Representative Bob Rita, and written statements from U.S. Senator Elect Tammy Duckworth and U.S. Congresswoman Robin Kelly.
"We can make a tremendous impact in saving those (Medicaid) dollars," Aunt Martha's CEO Raul Garza said, "and getting the patients the care they need, at the right place at the right time with the right expense."
The Aunt Martha's addition is just one of the many improvements made in the three year tenure of New RCH CEO Egan's strategic plan.
"We were at the verge of closing this hospital and it would have been devastating not only to the Roseland community but all the communities surrounding us," Rep. Rita said. "We've had a number of different services under the leadership of Tim Egan, so I'm very, very happy that we've got Aunt Martha's. It's a great day in Roseland."