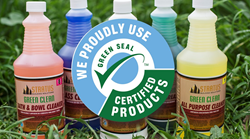 Cincinnati, OH (PRWEB) December 28, 2016
Cincinnati's local economy has been recently deemed the "fastest-growing in the Midwest" and becoming more "young and educated" by the local papers and business journals; and with this influx always comes more businesses to serve these often socially and economically confident groups, such including restaurants, nightlife, and gyms. A growing diversity in business and population is always a healthy signal for a local economy which encourages further growth; the business service industry is one of these to stronger emerge during these times. Businesses will always have to be cleaned, and this is where Stratus Building Solutions steps in.
Stratus Building Solutions of Cincinnati, the regional franchising headquarters for the international janitorial services company is looking to expand in southern Ohio and is searching for new franchisees. As the leading company in green commercial cleaning services, including post-consumer recycled tools and materials and Green Seal Certified Stratus Green Clean chemicals, franchisees are provided these cutting edge systems to gain a competitive advantage in the market for themselves, as well as their business customers. The Cincinnati region is ideal for expansion based on is fast growing, young and educated population base and increasing number of businesses to service to support this characteristically health savvy group.