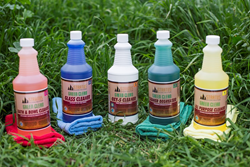 Nashville, TN (PRWEB) December 28, 2016
Stratus Building Solutions of Nashville is looking for new franchisees to expand the company's presence in the territory. Ranked number thirty as Forbes' Best Places for Business and Careers and continuously out-performing national averages on economic growth, Nashville is an ideal location for a Stratus Building Solutions Commercial Cleaning and Janitorial Services franchise. With nearly 40,000 businesses reported in 2010 by Nashville Business Journal, there is plenty of potential customers available for new franchisees.
As the nation's leading janitorial services company in green cleaning, Stratus Franchisees are provided with the cutting edge tools and materials including Green Seal Certified Stratus Green Clean chemicals to provide the most effective and health-based services to their customers; allowing them to truly stand out in the marketplace. Educational and health centers are particularly large customers for the commercial cleaning company, who favor the green cleaning solutions over the potentially harmful standard use chemicals for their patrons.
Stratus Building Solutions of Nashville is the regional headquarters for the international company, operated by co-owners David Smith and Ed Lease. Their new facility will soon boast a comprehensive training and distribution facility to support their franchisees in the Nashville market.