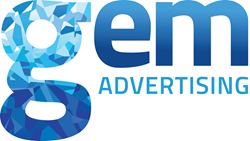 New Haven, CT (PRWEB) January 31, 2017
Griffin Health is a 160-bed acute care community hospital serving more than 130,000 residents of the Lower Naugatuck Valley Region in Connecticut. GEM Advertising is a full-service agency with additional locations in Vancouver, British Columbia; Boston, MA; and Chicago, IL.
GEM has been appointed to assist Griffin Health determine their messaging and boost awareness of the healthcare facility. As Griffin Health's AOR, GEM will be creating a strategic comprehensive marketing campaign to heighten the award-winning medical facility's visibility. Marketing campaign(s) will include media planning (traditional and digital media), website revamping, design, copy, social media marketing and public relations. In addition, GEM will also be producing all marketing collateral and materials to create a cohesive look and feel across all Griffin Health programs, services and platforms. The agency has also been tapped to promote specific areas of service offered at the hospital.
GEM Advertising CEO, Chris Bartlett, remarked, "Here at GEM, we are thrilled to be in the position to both clarify and sharpen the Griffin Health brand. With their philosophy of advocating for preventative healthcare and treating the patient first regardless of their clinical diagnosis, Griffin Health represents both a leading position and the highest of quality standards in the healthcare field right now."
Griffin Health serves as the flagship hospital for Planetree, an international leader in patient-centered care and has received national recognition for creating healthcare facilities and an approach to patient care that is responsive to the needs of patients. Many healthcare organizations around the world send visitors to Griffin Health's facilities and incorporate its Planetree concepts into their healthcare models. Griffin Health is located in Derby, CT.
###
About GEM Advertising
GEM is a full-service, international communications and marketing agency serving mid-size to enterprise brands. GEM serves as a strategic partner for growth by understanding its clients' vision and goals, building a strategy to get them there and executing that strategy through GEM's nine in-house departments. GEM has offices in New Haven, CT; Vancouver, British Columbia; Boston, MA; and Chicago, IL. To learn more about GEM, please visit: http://www.GEM-Advertising.com.
About Griffin Health
Griffin Health, a not-for-profit, tax-exempt subsidiary of the Griffin Health Services Corporation. Griffin Health is affiliated with the Yale School of Medicine and the Frank H. Netter MD School of Medicine at Quinnipiac University; it is also accredited by The Joint Commission. Griffin Health has more than 300 active and courtesy physicians who have admitting privileges. Griffin Health is recognized for having industry-leading patient satisfaction ratings and has received numerous quality and clinical excellence awards. It is the only hospital to be named to FORTUNE Magazine's "100 Best Companies to Work For" list for ten consecutive years, the only Connecticut hospital recognized four times by The Joint Commission as a "Top Quality Performer" on key quality measures, and a recipient of The Leapfrog Group's "A" Grade for Patient Safety for four consecutive periods (Spring 2014, Spring and Fall 2015, and Spring 2016). To learn more about Griffin Health, please go to: http://www.griffinhealth.org/