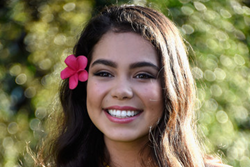 I was even a little scared before I had even thought of trying out for the role of Moana.
Upland, California (PRWEB) December 25, 2016
909 Magazine, a local lifestyle living magazine of southern California, had the rare and exclusive opportunity to sit down and talk with Auli'i Cravlaho, 16 year old native Hawaiian girl who recently provided the role of Disney's newest animated princess. She spoke with 909 magazine about how it felt portraying her culture in a way that well represents who she is, about how supportive her mother has been along the way and expressed her disappointment in recording in a room without her co star Dwayne "The Rock" Johnson.
The interview in it's entirety can be read for free, published by 909 Magazine, on their website 909Magazine.com.
Disney's Moana nearly broke the record for the highest grossing film to be released Thanksgiving weekend, pulling in over 80 million dollars in two days. Disney's other box office success Frozen, still holds that record. Moana has since gone on to make over 280 million worldwide which, along with Captain America: Civil War, and Rogue One a Star Wars Story has pushed Disney to break it's own global box office record at 5.851 billion dollars. This is the second year in a row that Disney has broken this record.