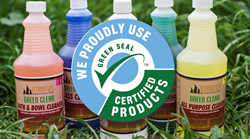 Austin, TX (PRWEB) December 28, 2016
Inarguably the cultural center of Texas, and recently declared as America's next boomtown by Forbes Magazine, Austin, TX is set is set for expansion for new Stratus Building Solutions franchisees. The regionally located Master Franchising office located off of Wood Hollow Drive is looking to bring on more franchisees to develop the region.
With over two million in population and encouraging tax incentives offered to businesses, Austin has been bringing in new companies for a number of years. Stratus Building Solutions sees the opportunity and is looking to market to new franchisees to meet the rising demand of business services and their niche in commercial cleaning. With cutting edge technology and specialized green janitorial services, headlined by their Green Seal Certified branded chemicals, Stratus Franchisees are provided the competitive advantage to stand out in the unique market that defines Austin.
The regional office, headed by co-owners Stephen Sheriff and Greg Fishman offer a distinctive franchising opportunity to potential Austin entrepreneurs by providing hyper-localized support out of their office. This model has allowed Stratus Building Solutions to be recognized as Entrepreneur Magazine's #7 Fastest Growing Franchise in 2016, and are looking for similar growth in 2017.