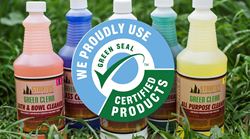 Colorado Springs, CO (PRWEB) December 28, 2016
The long awaited turnaround in the economy has to hit Colorado Springs, CO in 2016 and Stratus Building Solutions is poised to respond. Offering locally-supported franchise opportunities, Stratus hits a niche in the growing demand of business services, specializing in green commercial cleaning and janitorial.
With construction going through the roof in 2016, a growth in populations always coincide with a surge of new businesses and retail has shown healthy growth the past year. And what do all businesses have in common? They all need to be cleaned.
Stratus Building Solutions nationally recognized green clean services and distinctive local support model makes the franchise opportunity ideal to meet the flow of new business in the region. Regional franchising office which is located off of Montebello Drive, owned by Jim Van Dyke and operated by Director Mert Smith saw an influx in business in 2016, and are ready to support new franchisees come the New Year to meet the growth focused climate of the territory.