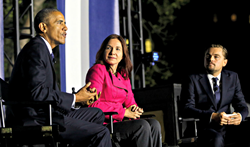 ROYERSFORD, PA (PRWEB) January 04, 2017
Evangelicals are usually the biggest skeptics when it comes to climate change – but one Evangelical congregation and one scientist are teaming up to change that perception.
Dr. Katharine Hayhoe, one of TIME Magazine's 100 Most Influential People of 2014, will visit Christ's Church of the Valley in suburban Philadelphia on Sunday, January 8, 2017, to speak on the topic, "How Climate Change Affects The Poor." According to Dr. Hayhoe, addressing climate change is not just a matter of politics, but of justice for those who are globally the most vulnerable.
According to Hayhoe, "Climate change isn't just about the environment. It's about people. Climate change is affecting real people, and it's affecting people who are poor and vulnerable."
Dr. Hayhoe is widely considered one of the leading authorities on climate change in the country. In October 2016, she spoke on a panel with President Obama and Leonardo DiCaprio at the White House. During that discussion, Hayhoe stated, "If we want to fix poverty, hunger, inequality, disease, and water scarcity, we are pouring all of our money, all of our effort, and all of our hope and prayers into a bucket. That bucket has a hole in the bottom. And that hole is climate change."
At a time when climate change has become one of the most politicized issues in the country today, Dr. Hayhoe and Senior Pastor Brian Jones of Christ's Church of the Valley believe it's time for people of all faiths to step up and lead. "This is not a liberal issue. This is not a Democratic issue. This is a life and death issue, and it's time for the church to wake up from its slumber before it's too late," Jones said.
Dr. Hayhoe is an Associate Professor of Political Science at Texas Tech University and serves there as the Director of the Climate Science Center. Katharine is also the CEO of ATMOS Research and Consulting, which helps companies measure the impacts of climate change on their infrastructure and shows them how to plan for the future.
Hayhoe will speak during each of the church's three services that day: 9:00, 10:15, and 11:30 AM. This event is free of charge, and all perspectives are welcome.
Christ's Church of the Valley is located at 1560 Yeager Rd, Royersford, PA 19468, in the northwest suburbs of Philadelphia.
For more information visit http://www.moviechurch.com/justiceday.