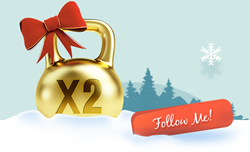 LIMASSOL, Cyprus (PRWEB) December 27, 2016
Banc De Binary Ltd. (BDB), a leader in the binary options industry and the first brokerage firm to be fully regulated by the Cyprus Security and Exchange Commission (CySEC), has launched a Christmas-inspired holiday promotion last week. The limited time campaign, launched on December 22nd, provides traders with an award-winning trading experience in the form of a Christmas expedition. The expedition, shaped by a modern-day Christmas fairytale, adds a playful, festive dimension to the usual trading experience. Traders are invited to use their trading-power to participate in the act of pulling gift-boxes out of the snow, giving them a chance to win highly attractive Christmas gifts.
Up until now, every dollar traded on BDB's platform has been rewarded with 1 KG of lifting-power. The strength attained through trading, essentially allows traders to pull gift-boxes out of the snow, some of which contain presents. As part of BDB's cheerful and generous Christmas spirit, during December 27th, for one day only, clients will receive 2x the amount of KG of lifting power for every Dollar traded. The more lifting-power one has, the heavier gift-boxes they'll be able to pull, and the more expensive presents they'll get a chance to win. A trader can check the status of their collected lifting-power anytime by simply looking at the power-meter, located on the left side of the screen, directly under BDB's Christmas elf.
Every day, the Christmas expedition features 4 presents and 110 happy winners. The selection of presents also changes daily. Double Strength Day's presents include an exclusive webinar, previously reserved for VIP clients only, a Fitbit Surge Watch, an iPad mini 4, and a Yuneec Typhoon Q500 4k Drone. With double the possibility of winning such astounding awards, the question of participation looks like a no brainer.
Anyone who signs up today will be able to participate in BDB's limited time holiday trading experience ending on December 31st. Joining BDB's magical Christmas expedition is possible by simply clicking here and those who hurry up, will enjoy the special Double Strength Day, and all its benefits. The journey will be accompanied by BDB's endearing Christmas elf. BDB wishes its clients a Merry Christmas, as it will do its best to give them a chance at making at least some of their holiday wishes come true.
About BDB
Since its inception, BDB has undergone exponential growth. As a pioneer in its field and one of the industry leaders, BDB is committed to providing traders with an all-inclusive trading experience. This includes offering an intuitive trading platform, effective trading tools, a wealth of educational material, a wide range of global underlying assets, trade options and a responsive support team. In their quest to provide a safe and transparent trading environment, BDB offers top quality binary options services and is constantly striving to improve their products and offerings.
HIGH RISK INVESTMENT WARNING: Trading Binary Options is highly speculative, carries a level of risk and is not suitable for all investors. You may lose all of your invested capital, therefore you should not speculate with capital that you cannot afford to lose. You should be aware of all the risks associated with trading Binary Options. Please visit our website to read our full Risk Warning.
REGULATION: Banc De Binary Ltd. is a Financial Services Company authorised and regulated by the Cyprus Securities and Exchange Commission (CySEC) under license no. 188/13. (v. 1.0)