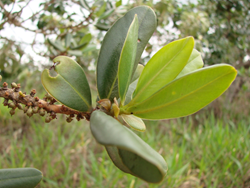 "The tested natural products...are potential cytotoxic compounds that deserve more investigations ...
Raleigh, NC (PRWEB) December 27, 2016
An international team including scientists from Cameroon and Kenya say compounds called quinones that are produced by some Kenyan plants could aid in the fight against malignant pleural mesothelioma. Surviving Mesothelioma has just published an article on the new research. Click here to read it now.
The new study tested 14 different naturally-occurring quinones on six different cancer cell lines, including mesothelioma. One compound in particular, called rapanone, which was isolated from an evergreen shrub, was particularly effective at triggering cell death in malignant mesothelioma cells.
"The tested natural products...are potential cytotoxic compounds that deserve more investigations towards developing novel antiproliferative drugs against human carcinoma," writes researcher and study the study's first author Victor Kuete, PhD, a biochemist with the Universite de Dschang.
The findings, published in the journal Pharmacology and Toxicology, focused on the triggered release of caspases, enzymes that contribute to programmed mesothelioma cell death.
"Standard cancer treatments, including the gold standard chemotherapy and most advanced surgical techniques, are only marginally effective at improving mesothelioma survival," says Alex Strauss, Surviving Mesothelioma's Managing Editor. "New treatments, including alternatives such as quinones, are urgently needed."
To learn more about quinones and their potential use in mesothelioma therapy, see Plant Compounds Could Offer New Ways to Treat Mesothelioma, now available on the Surviving Mesothelioma website.
For nearly ten years, Surviving Mesothelioma has brought readers the most important and ground-breaking news on the causes, diagnosis and treatment of mesothelioma. All Surviving Mesothelioma news is gathered and reported directly from the peer-reviewed medical literature. Written for patients and their loved ones, Surviving Mesothelioma news helps families make more informed decisions.