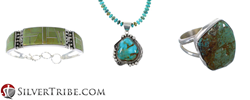 The color green is often associated, on a psychological level with connectivity, health, and refreshment.
(PRWEB) December 30, 2016
One of the most inspired themes of 2016 is focused on nature and the beauty of the natural world. One example in society is the rise of earth tone colors in fashion. The design industry has taken natural colors and created a new array of styles. The latest designs combine to give a look that's both free-spirted and artistically avant-garde.
The Spokesman of SilverTribe.com, Chris Anderson, stated "People are looking to the future of fashion. They want to know what's coming in 2017 before New Year. We've gathered all the latest data to help people bring their outfits together.
SilverTribe.com is a jewelry company that breaks the mold by partnering with artists. The Southwestern and Native American artisans that contribute to their site feature their work through this company and give the public the opportunity to see the different styles and cultures the Southwest region has to offer.
Pantone, a company known for their color selection technology used by a variety of companies across the country had launched their "Greenery" color as the color of 2017. Since the New Year is quickly approaching, this color symbolizes new beginnings and gives people a fresh take on life and their surroundings.
The color green is often associated, on a psychological level with connectivity, health, and refreshment. "It's easy to see why," comments Anderson.
As a result of this revelation, the team at Silvertribe.com had met with the artists they represent to bring a new collection of green turquoise jewelry to prepare people for the upcoming fashion styles of the New Year.
"People can expect to find all the accessories they need," said Anderson. Among the many items they offer, people can find green turquoise bracelets, necklaces, rings, earrings, watches, and more. Anyone looking to gear up for 2017 would do well to start by visiting this titan in the turquoise industry, making waves as large and stunning as the stones they carry in their store.
Anyone interested in learning more about SilverTribe.com's green turquoise jewelry collection and the services they offer their VIP guests can do so by visiting their website and browsing their array of gem and silver jewelry.