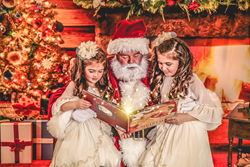 "You can feel the magic of Christmas beaming out of every nook and cranny"
(PRWEB) December 27, 2016
The real Santa has come to Long Island. Nestled in a magical kingdom in West Islip called Storybook Studio, Santa and Mrs. Clause are meeting and greeting children and their parents from all over.
Why this place? What is compelling so many parents to sign up a year in advance to have the Storybook Santa Experience for their children?
In an age of commercialism and skepticism, the all-too-familiar department store Santa has lowered the expectations of parents eager to have photos taken of their precious young children. And they want the experience to be special, keeping the spirit of Santa alive in their children's hearts. But the typical experience falls very short of the ideal.
Many children are shy, suspicious, and nervous about meeting Santa because to most, he is still a stranger, having only heard stories of seen pictures of this mysterious benefactor. If they went to a mall and saw him, they were still suspicious.
Kristen and Greg Pitre, a very creative husband and wife team, have changed all that. In their magic kingdom, the children who come to meet Santa at their Storybook studio are warmly greeted and welcomed into Santa's workshop where they get to realize their Christmas dreams in one-on-one time with Santa in a private setting.
This is much more than a "Santa's-lap" session. Children get to have milk and cookies with Santa, see their names on his "nice" list, play with Christmas toys, tug his beard just to make sure it's real and even have a snowball fight...indoors and so much more!
Mrs. Clause is real, too, and the children can bake cookies with her in the kitchen. Christmas, is, after all, a family time and a time for sharing and caring.
The Santa Experience is part of a growing phenomenon called Storybook Experiences that includes other fairy-tale realities including the Princess Experience, the Mermaid Experience the Pan Experience and the Pirate experience.
And let's not forget the Easter Bunny! This incredible husband and wife duo also have an amazing Easter Bunny Egg-perience where children share the magic of Easter time with the famous hare apparent. People were absolutely amazed last year and the waiting list for this experience grew to over 5,000 families!
Reactions to these experiences have been absolutely amazing. Parents are provided with amazing one of a kind photography, and more than that, are overjoyed by their children's excitement and genuine happiness at living their dreams. These are memories that will last a lifetime. Thousands of ecstatic parents have commented already on their Facebook with over 20,000 likes already.
Sessions can be booked at the company's websites but they sell out extremely fast so be on your game when they open bookings.