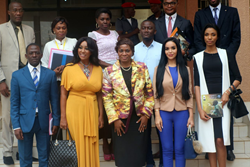 Hollywood, CA. (PRWEB) December 27, 2016
Fashion Designer Iman Lopez, who is best known for starring in Episode 4 of the hit television series "Rich Kids of Instagram", is also striving to make a difference. Iman recently spent October in the Republic of Cameron serving those in need. During her trip, she received several awards and praises from ministers and their affiliated cabinet members for her volunteer work with orphanages as well as participating in teaching programs for young Cameroonian entrepreneurs.
"The Ministry of Social Affairs depends heavily on the valuable service of volunteers to fulfill our mission and we are grateful that celebrities like Ms. Lopez are setting an example by volunteering their time and talents to help raise awareness of our work. It is crucial to efficiently respond to these disasters and adequately provide for those in need through the distribution of food, living necessities, clothing, and educational material to not only alleviate, but give them the tools necessary to prevail through such persevering times. We are truly blessed to have people like Ms. Lopez to raise the bar in providing for these people in need. Additionally, Ms. Lopez has also been instrumental in the starting of a celebrity mentorship program geared towards helping young Cameroonians and their families by promoting entrepreneurship through a variety classes that cater to developing the skills required for their success," stated Her Excellency Professor Pauline Irene Nguene, Minister of Social Affairs in the Republic of Cameroon.
His Excellency Mr. Narcisse Mouelle Kombi, Minister of Arts and Culture, elaborated on recent 2016 trend in the country's fashion exports by stating that, "Our country is well known for its fabrics and has always been a popular destination for fashion designers. Recently however, we have seen a large increase in Cameroonian brands being sold in Europe and North America". Mr. Kombi went on to add "Ms. Lopez has helped us put in place a teaching program for young designers and entrepreneurs helping them harness the power of our large textile industry so that they can become the next Kibonen Nfi." This is a reference to the local Cameroonian designer and founder of Kibonen NY who offered a unique hand-woven design for the Toghu that is influenced by the traditional clothing of the Western highlands within Cameroon in which swept New York's fashion scene late 2015.
With an upcoming volunteer campaign in Jordan to help refugees of the Syrian conflict, Iman Lopez has stated on social media that she plans on taking a step back from entrepreneurship and focusing more on philanthropy. Iman's team has grown since the trip to Cameroon to include many iconic designers and prominent Saudi business figures. She was not able to give exact names due to security concerns from officials, but instead referred us to her Instagram @iman.lopez