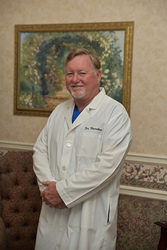 Auburndale, FL (PRWEB) December 28, 2016
People who wish to undergo a full smile makeover in Auburndale, FL, can now visit Dr. Frederick Thurston, of Thurston Comprehensive Dental Center, who is now accepting new patients with or without referrals for full mouth reconstructions. Dr. Thurston offers a wide range of cosmetic and corrective dental procedures, including, dental implants, and sleep apnea treatment. The cutting-edge technology and techniques offered by Dr. Thurston can help patients improve their smiles as well as their long-term oral health.
Full mouth reconstructions may be necessary for people who live with multiple oral health issues that prevent them from maintaining proper oral hygiene or function. For instance, Dr. Thurston may recommend this procedure to patients who have lost several teeth or suffered severe decaying of the teeth, gums and other connective tissue. By planning and completing each aspect of a smile makeover in Auburndale, FL, in conjunction, Dr. Thurston can offer patients greater economy, efficiency and convenience.
Dr. Thurston collaborates with each patient to create a customized smile makeover plan. People who suffer from tooth or bite alignment issues may benefit from, Red White and Blue orthodontic clear aligners which are a subtle and comfortable alternative to braces. For people who have lost teeth, Dr. Thurston offers a permanent, functional solution with dental implants and mini dental implants, which may replace a single tooth or secure an entire denture. In addition, Dr. Thurston performs several procedures to help patients improve their oral and general health, including obstructive sleep apnea treatment, which can prevent sleep disruptions and related health issues.
For more information about dental implants and other procedures that Dr. Thurston offers, patients should visit Thurston Comprehensive Dental Center's website at http://www.drthurston.com. To schedule consultations regarding their smile makeover options in Auburndale, FL, patients should visit the website or call the practice office today at (863) 967-7548.
About the Practice
Thurston Comprehensive Dental Center, Inc. is a general practice offering personalized dental care for patients in Auburndale, FL. Dr. Frederick D. Thurston received his Dental Degree from the University of Florida in 1979. He started the practice in 1980 and has been practicing implant dentistry since 1989. Dr. Thurston stays up to date with the latest advancements in technology and is committed to continuing education. To learn more about Thurston Comprehensive Dental Center, Inc. and the services they provide, please visit their website at http://www.drthurston.com or call (863) 967-7548.