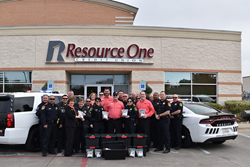 Dallas, TX (PRWEB) December 28, 2016
Resource One Credit Union is continuously looking for opportunities to help not only our local communities we serve but the first responders that serve our neighbors, as well. As part of our commitment to give back to the community, Resource One Credit Union donated 200 lifesaving tactical medical kits to Dallas Country Sheriff's Department. The kits were delivered to the Resource One Mesquite branch and picked up by members of Dallas County Sheriff's Department on December 12th, 2016.
Jim Brisendine, President/CEO of Resource One Credit Union, stated, "We are pleased to make a donation that can make a difference for not only the officers and their families, but also the people that they are called on to assist. If these medical kits provide the officers additional peace of mind, then this donation is a success. If one life is saved due to one of these medical kits, it is then priceless."
These tactical medical kits allow the Dallas Sheriff's Department to be more efficient and prepared for any circumstance that may arise by having the equipment they need to keep themselves and citizens safe. The tactical medical kits include lifesaving equipment such as tourniquets, bandages, and surgical tape. They will be utilized by the officers in the traffic and warrant divisions for the treatment of serious injuries and can be used to help officers save lives.
Resource One Credit Union's Director of Sales and Service Mike Tambourine responded, "In the wake of the July shootings in our area, we wanted to find a way to give back to those members of the community whose job it is to protect and serve. Seeing as the Dallas Sheriff's Department serves all of Dallas County we felt like the donations of the medical kits were the perfect opportunity to show our appreciation of those men and women who put their lives on the line every day. And while we hope that there will never be a need to use one of these kits, in the event they are needed and it saves a life they will have been well worth it."
About Resource One Credit Union
Resource One Credit Union was originally chartered as Sears Dallas Employees Federal Credit Union in 1936. Over time, the increased demand for more locations and additional products and services prompted the expansion of our product lines and field of membership. Today Resource One proudly serves as a financial cooperative for the communities of Dallas and Harris counties. Resource One has 11 convenient locations to serve our over 55,000 members. Visit Resource One Credit Union's homepage at http://www.r1cu.org.