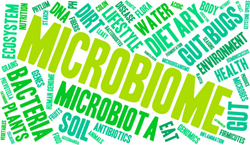 Breast milk helps establish a healthy gut microbiome, which is essential for lifelong health.
Amarillo, TX (PRWEB) December 29, 2016
Praeclarus Press will host a webinar on January 19th with Dr. William Parker, entitled The Role of Breast Milk in the Biome of the Human Body. The ecosystem of the human body is comprised of microbes (bacteria, yeast, and viruses) and other organisms that are critical for health. Within the context of the body as an ecosystem, breast milk is critically important in establishing and maintaining healthy gut bacteria, which is essential in human health. Infant formulas can disrupt this delicate ecosystem, leading to health problems. Dr. Parker will describe recent research that explores the advantages of breast milk, and the shortcomings of infant formula, for the ecosystem of the human body.
Dr. William Parker has worked on the ecosystem of the human body at Duke University for more than 20 years, publishing more than 100 peer reviewed scientific articles during that time. He is most well-known for discovering the function of the human appendix as a safe-house for beneficial bacteria, answering a 400-year old question first posed by Leonardo da Vinci. His current work involves the study of how Western Society has modified the body's ecosystem, leading to epidemics of neuropsychiatric disorders (e.g., migraine headaches and anxiety disorders), heart disease, and a variety of other inflammatory-related illnesses.
The webinar is January 19, 1 p.m. EST. Participants can register on the Praeclarus Press website. Continuing education units have been applied for.
Praeclarus Press is a small press dedicated to women's health. Founded by health psychologist, Dr. Kathleen Kendall-Tackett, the mission of the press is to publish materials that change people's lives. Praeclarus Press is based in Amarillo, Texas.