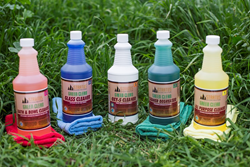 Phoenix, AZ (PRWEB) December 29, 2016
International franchising company and green janitorial services company, Stratus Building Solutions seeks to expand the company's presence and number of franchisees in the Phoenix metro in 2017.
The Phoenix regional headquarters is owned by Channen Smith and operated by COO Joe Gallegos and Regional Director Mason Smith and located off of Washington Street. The headquarters functions as the marketing, sales, distribution and support center for the region's franchisees; offering a unique and localized cornerstone structure for the territory. Stratus Franchisees are provided with the award winning business model, ranked number seven "Fastest Growing Franchise 2016" by Entrepreneur Magazine. Operating in the Phoenix metro, franchisees are provided leading edge commercial cleaning and janitorial service tools, technology and branded, Green Seal Certified cleaning chemicals.
Phoenix is ideal for Stratus Building Solutions' expansion in the New Year, now under new regional management the office is ready and poised for bringing on new franchisees to cover the regions available territories.