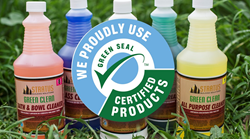 San Jose, CA (PRWEB) December 29, 2016
Stratus Building Solutions of San Jose, the international franchising company's newest regional headquarters is looking to bring on new franchisees for 2017. As the entrepreneurial hub of the United States, Stratus Building Solutions Commercial Cleaning & Janitorial Services has territories available across Silicon Valley; a start up opportunity ready to service the many start up opportunities in the region.
Stratus is a business services franchise model specializing in green commercial and janitorial services; with its industry leading tools, materials and processes including Green Seal Certified chemicals which are biodegradable, non-toxic, contain no VOCs, known carcinogens and guaranteed effectiveness, franchisees are provided a competitive advantage unmatched in the industry. With a young, educated, health-savvy business customer base, the Santa Clara County region is ideal for expansion by new Stratus franchisees. Current major customers of the region are tech firms and private schools.
Ranked number seven "Fastest Growing Franchise" by Entrepreneur Magazine, Patrick Doyle opened the regional franchising headquarters in July 2016 and looks intensify the region's growth in the New Year, starting by adding a number of new franchisees to meet the territory's current demand.