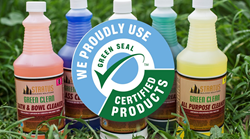 Los Angeles, CA (PRWEB) December 29, 2016
Green commercial cleaning and janitorial services company and local franchisor, Stratus Building Solutions of Los Angeles, is looking to expand their presence in Southern California by bringing on new franchisees to meet rising demand.
With a large, notably health-savvy population base, Southern California is an ideal location for new Stratus franchisees. With industry leading tools and materials, Green Seal Certified biodegradable, non-toxic, environmentally responsible cleaning chemicals, franchisees are able to provide their diverse range of business customers with an effective, safe and marketable clean. Current customers are gyms, day cares, schools who are able to benefit from the new level of health and safety they are able to provide their customers and employees.
The regional franchising office headed by Regional Director Chris Wegner operates as the sales, marketing, supply distribution and training facility to Southern California Stratus franchisees. Rising demand for their green janitorial services and has marked them as the number seven ranked "Fastest Growing Franchise" but franchisees are still needed in 2017 to meet demand and fill available territories.