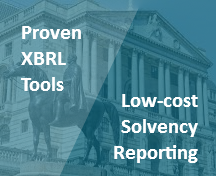 Our customers have found that our easy-to-use XBRL Toolkit provides many helpful features such as error highlighting and simple to understand reports which hide the complexity of XBRL
Paris (PRWEB UK) 10 January 2017
Standard Life is a global investment company that is required to provide Solvency II reports in XBRL format to the UK's Prudential Regulation Authority (PRA) and the Central Bank of Ireland.
UBPartner (http://www.ubpartner.com) is one of the real experts in XBRL and has extensive experience in helping clients and partners across Europe to generate XBRL reports for regulatory reporting frameworks such as EIOPA's Solvency II and the EBA's CRD4 directive for banks.
The Solvency II Pillar 3 regulatory reporting requirements came into force on 1 January 2016 and all Insurers in the EU and EEA must produce reports in XBRL format for submission to their local authority. EIOPA (http://www.eiopa.eu) has developed a single XBRL taxonomy and set of annual quantitative reporting templates (QRT's) to be used in over 28 countries. In addition, some local regulators, such as the Central Bank of Ireland, have developed an additional set of national specific templates (NST) to be reported against by local firms. The reporting requirements are extensive and the XBRL taxonomy includes numerous data quality checks that have to be passed as part of the submission process.
"Our customers have found that our easy-to-use XBRL Toolkit provides many helpful features such as error highlighting and simple to understand reports which hide the complexity of XBRL. It is also based on the most advanced and performant XBRL processing engine, ensuring that our tools work extremely efficiently and are always fully up-to-date with the latest standards and benchmarks," stated Roger Haddad, UBPartner president. "UBPartner is continually investing in the Toolkit to make it better and easier to use. We recently added better support for existing Portals and server environments, and are co-developing a new solution to help our customers store and analyse XBRL data and reports".
"Our clients and partners have commented on how reassuring it is that we keep the XBRL Toolkit and its templates completely up to date with the latest Solvency II and local national requirements, and most pleasing of all for us, is that they really appreciate the service levels and fast response to issues provided by UBPartner's friendly staff."
XBRL (eXtensible Business Reporting Language)
XBRL is fast becoming the standard for financial information exchange and reporting demonstrated by the XBRL programs being driven by the European Banking Authority (EBA), European Insurance and Occupational Pensions Authority (EIOPA) and numerous government agencies. The XBRL standard is maintained by XBRL International: http://www.xbrl.org
About Standard Life
Standard Life was established in Edinburgh in 1825. Today it is a global investment company helping people to invest and manage their money. Around 4.5 million customers and clients across 46 countries trust Standard Life with their financial future and Standard Life is responsible for the administration of £328 billion of their assets. Standard Life also supports over 25 million customers through Indian and Chinese associate and joint venture businesses.
Standard Life Investments actively manages £269 billion worldwide, offering global asset management expertise with strong investment capabilities and performance. It employs around 6,500 people internationally – through businesses in the UK, Europe, North America, Asia and Australia and Standard Life plc is listed on the London Stock Exchange with around 1.2 million individual shareholders.
Wherever Standard Life operates in the world, it is motivated by a sense of responsibility. That is what has helped it be a sustainable business over the long term. Standard Life is proud to be listed as a leader for corporate sustainability in its industry in the Dow Jones Sustainability Indices (DJSI World and DJSI Europe).
You can follow Standard Life on http://www.twitter.com/StandardLifeplc
Note: All figures are at 30 June 2016 unless stated otherwise
About UBPartner
UBPartner is a privately owned company with headquarters in Paris and offices in London. It provides a full suite of solutions and services that enable companies and regulatory agencies to realize the benefits of XBRL – from the underlying processing engine, to desktop development and deployment tools, all the way to packaged solutions for regulators and government agencies.
UBPartner technology and tools are used today in many advanced and demanding XBRL environments such as market regulators, government agencies and major corporations in France, Belgium, UK, Ireland, Poland, Norway, and Luxembourg and by leading software vendors, such as Oracle and Infor.
For further information, visit http://www.ubpartner.com